These Tiny, Off-the-Grid Cabins Near Joshua Tree Look Totally Apocalypse-Proof
Plus, the high-desert outpost is available to rent.
Surrounded by boulders and twisted yuccas, two cabins in the Mojave Desert stand like Monopoly houses, their steel siding weathered to a tawny finish. But behind the simple gabled forms lies a complex network that enables them to operate wholly off the grid.
Newsletter
Join the Travel Mailing List
Get carefully curated content filled with inspiring homes from around the world, innovative new products, and the best in modern design
Their creator, architectural designer Malek Alqadi, has been fascinated with sustainable living since his days as an undergraduate architecture student. Later, while working on high-end homes for a small firm in Los Angeles, the idea of an "off-grid architectural experiment" began nagging at him.

Alqadi's concept for a green getaway took shape when he and Hillary Flur, his childhood best friend from Florida, visited Joshua Tree, about two hours east of Los Angeles, and were taken with the area.
Shop the Look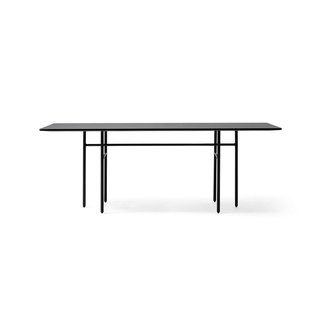 Just north of the nearly 800,000-acre Joshua Tree National Park, they bought a ramshackle, single-story house built in 1954—a vestige of the 1938 Small Tract Act, which deeded parcels of federal land in the California desert.
"We dug a seven-foot hole to reinforce the solar tree. There was no way we were climbing up twenty feet to put panels on the roof in the desert sun in the middle of summer." Malek Alqadi, architectural designer
Amid the stark terrain, Alqadi conceived a modern-day folly with a purpose. "It's about allowing people to experience sustainability," he explains. "I added amenities and technologies, like Wi-Fi, to stay connected, but you have the option to completely disconnect and enjoy nature."
Alqadi salvaged the building's slab and skeleton and incorporated them into a new structure that raises the original roofline to accommodate a living/dining area and kitchen, a sleeping loft, and a bathroom and wet room. The pitched roof does more than increase livable space; it enables hot air to vent through solar-powered skylights.
"We could have dug a well," explains Alqadi, "but there was no promise we'd find water. So I spent my money on something we could rely on—using the sun as our utility company."
Thanks to the freestanding photovoltaic power generator, or "solar tree," which Alqadi and Flur assembled mostly themselves, the sun keeps things running. At night, the main attraction is the open-air portal perched atop the equipment cabin, where visitors can watch movies or gaze at the stars, warmed by a bio-ethanol fireplace and a heated bed.
Flur and Alqadi, who is now developing an off-grid "village" of structures for his new firm, Cohesion Studio, rent out Folly for short-term stays when they're not there. "People don't know that off-grid places have bathrooms or that there's enough electricity without being connected," Alqadi says. "It's a real eye-opener."