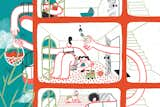 In My First Apartment as a Single Mother, I Found a Community of Women Parenting Alone
I had to share a bedroom with my toddler, but the invaluable support I received from other tenants in the building made subletting the 550-square-foot flat worthwhile.
Welcome to You Lived Where?—a series about compromise, creativity, and the places people have called home.
One of the first apartments I toured on my own in Cologne, Germany, did not have a kitchen sink. There was no stove or refrigerator, no cupboards or counter. I had to meet the realtor before sundown because the unit didn't come with lights installed, just a pair of wires dangling from the ceilings of each room. (This bare-bones approach is common in Germany's rental market; landlords aren't obliged to provide any amenities beyond running water—many charging extra rent if they do—and in some cities, kitchens and appliances aren't included, which means tenants have to purchase and install their own, or arrange to buy them from the previous renter.)
Though the apartment was small and unembellished, it felt like a step up from the one I'd been renting with my soon-to-be ex-husband. That four-room flat had been handed over to us by the landlord after he'd stripped the laminate out of one room entirely; some of the kitchen floor tiles had been removed as well, an unevenly poured, bare concrete subfloor left in their wake. I threw in the towel on the flat—and the marriage—before we'd even had a chance to put new ground beneath our feet.
As a newly single mother to a toddler, a foreigner with limited funds and virtually no handy skills, I found myself stuck in a predicament. Cologne's rental market is particularly competitive—a 2020 report lists the city's vacancy rate at 0.9 percent, and it was similarly low when I was looking a decade ago—but the apartments I was fighting for often had little more than four walls (covered in chipped wallpaper) and a toilet. I'd heard that in Berlin in the late '90s, rentals were abundant but came in a much worse state; people were renting flats with showers in the kitchen and coal-fired ovens for heating. But they were doing so for pennies. In Cologne, when I was looking, finding 500 square feet for under $1,000 was not only a rarity, it was a hot commodity. The kitchen-less, light-less void of a flat I toured at the start of my search had nearly 200 applicants.
So when my new friend Maria suggested I knock on the door of a neighbor in her apartment building and plead my case to sublet—he would be moving across the hall, she said, but hadn't yet terminated his lease—I headed to her place straightaway. In Germany, where leases can be fixed-term or indefinite, getting a sublet is akin to locking in a rent-controlled apartment. If I was quick enough, I might even be able to convince the man to leave his kitchen appliances behind. Maria, who herself was parenting alone, handed me a bottle of wine to gift to her neighbor and told me to leave my daughter with her while I turned on the charm upstairs.
At 550 square feet, the apartment was cozy but well-cut, with a pantry kitchen and a clean, white-tiled bathroom large enough for a tub. Tilt-and-turn windows filled the living spaces with daylight, and the south-facing balcony spanning the length of the flat could serve as both a play area and an outdoor dining space in summers. A long foyer leading from the front door to the living room was wide enough to hold a shoe bench and a wardrobe where I could hide our jackets as well as my daughter's sand toys. I overlooked the floor-to-ceiling birdcage the current tenant built into the corner of the kitchen—and the wallpaper peeled back by his pet parakeets' beaks—to confirm that the man would be leaving the laminate floor (covered, at that moment, in bird droppings) intact. The birds had pecked at it in places, but the laminate was better for my often barefoot toddler to run around on than a concrete subfloor. We cut a deal within the hour.
Although I lost the privacy of having my own bedroom, I gained so much by living in a building with a patchwork network of support.
Once I moved in, I realized that the building had become something of a haven for women parenting alone; half of the dozen apartments in the cement-walled, prewar building were occupied by single moms. Although I didn't have a bedroom of my own, I created a dividing wall that split the sleeping area in two by squeezing an enormous Ikea closet between the chimney pillar and door. At night, after making sure there were no noisy toys or Matchbox cars I could stumble over in the dark, I would tuck my daughter into her bed in one corner of the room and retreat to my poorly lit desk on the other side of the closet to finish up work. The futon I slept on became a sitting gallery for my daughter's stuffed animals during the day; her hand-sewn octopus toy doubled as my pillow on nights I was too tired to move it.
Despite its somewhat cramped quarters, the apartment quickly began to feel like home for other reasons. My child found friends in the other kids in the building; they would spend hours together, piecing together Legos in their living rooms on rainy days, or pushing each other on swings at the nearby playground. Although I lost the privacy of having my own bedroom, I gained so much by living in a building with a patchwork network of support. On hot days, Maria let us set up a paddling pool in the private garden of her ground-floor apartment for the kids to splash around in. I traded childcare with Brigid across the hall on nights when one of us wanted to step out. After the flu isolated me and my daughter, another neighbor dropped groceries outside our door and texted daily to make sure we were okay.
Our family's lives rarely coincided outside of the worn-down apartment building on that quiet one-way street, but our paths frequently converged on the front stoop. After long days at daycare, the kids would come home with ice cream cones in hand and grab a pail of chalk to draw on the sidewalk while some of the mothers caught up on neighborhood gossip or vented about tough work days. Eventually, we pulled the weeds out of a tiny patch beside the front door and set up a bench where the adults could sit and decompress before heading indoors. An elderly pensioner who lived on the top floor would often arrive back from his daily walk around that time and sit down to regale us with stories from his wartime childhood while the older kids tried their hands at climbing a solitary tree in the yard. (Raised by a widow himself, he struggled to understand why we were opting to raise kids on our own, but every Saint Nick's day, without fail, he filled our childrens' freshly polished shoes with walnuts and mandarins, and chocolates wrapped in gold foil.)
Like most rental situations, this one had an unspoken time limit. Our sublet, already too small for me and my daughter to live in comfortably by the time she entered school, ended when the elderly owner of the building died and each flat went on the market as a co-op. In the Hollywood version of this story, us tenants might have banded together and bought the building to keep the spirit of our informal home for single mothers alive. Instead, we recognized our situation had come to its natural end and all began our individual searches for the next place to call home.
Illustration by Andrea Iris.
Related Reading:
As a Child of Immigrants, I Feel Guilty for Embracing the Minimalist Aesthetic
Get the Dwell Newsletter
Be the first to see our latest home tours, design news, and more.