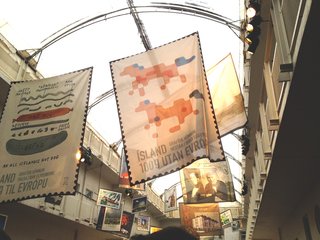 Iceland DesignMarch 2013 Highlights
Iceland recently celebrated its biggest ever annual design festival, DesignMarch 2013. The fair featured some 150 events, ranging from fashion to furniture and architecture to food design, making the world's northernmost capital of Reykjavik the place to be for the design-inclined.
DesignMarch is a relatively new event—it's just the fifth time it's been held. As many designers were quick to respond, Iceland doesn't have a long tradition of design like other Nordic countries. "Just ten years ago," according to Sari Peltonen of the Iceland Design Centre, "there were next to no written sources on design. It seemed to simply..not exist somehow?"
But it was starting to. Then, the Iceland Design Centre opened in 2008, just as the country's economy threatened to collapse. But what could have marked the end of a promising design scene has actually had the opposite effect—design consultants such as architects turned to handicraft and product design. They had to look locally for materials and production, and they had to work with the global marketplace in mind.
What was discovered in Iceland was a vibrant and colorful capital city brimming with creative exuberance, a land ripe with inspiration in all of its raw extremes, and one that is still working to carve out a design identity of its own. No easy task when there's already such rich heritages of Nordic design to live up to.
So what is emerging as distinctly Icelandic? Will it move Scandinavian design in a slightly more edgy or exotic direction, perhaps? It's not a question one could answer by the end of this short visit, but it's exactly what anyone coming to Reykjavik will start getting their head around.
DesignMarch was held March 14-17 in Reykjavik, Iceland.
For more information, click here.
Get the Dwell Newsletter
Be the first to see our latest home tours, design news, and more.