A Claustrophobic London Mews House Gets a Smart Redesign
In North London, a small mews house suffering from lack of light gains a bright refresh with space-saving features.
Dark, dated, and claustrophobic, this Hackney mews house that London–based firm HUTCH design was tapped to renovate was in desperate need of a modern refresh. For starters, the clients—a young couple with two children—were running out of space to raise their growing family.
Newsletter
Join the Renovations Newsletter
Get carefully curated content filled with inspiring homes from around the world, innovative new products, and the best in modern design
Located in the back of Broadway Market on Dericote Street, the brick home was flanked by buildings to the side and rear, which limited access to natural light.
"Because the existing home was small, and the clients needed more space for their two young children, the design brief was largely to provide extra accommodation for a growing family," explain the architects.
"But crucially, we needed to utilize and maximize the space as much as possible…and really wanted to flood the house with natural light and reflect this throughout the property."

Shop the Look
To that end, the architects redesigned the layout to have a more flexible, open-plan arrangement. This, along with an added side extension, converted the former two-bedroom, one-bath home into a three-bedroom, two-bath property, all within 970 square feet.
"We wanted to create a series of interconnected spaces that offered a sense of continuity rather than separation, and we accentuated this by using consistent materials throughout the interior," continue the architects.
"With the reconfigured interior layout—which is arranged over a series of three split-levels—the goal was to create a more dynamic living environment, encouraging family interaction between the different spaces in the home."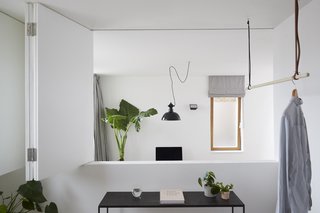 Consequently, the architects knocked down a structural wall between the kitchen and living room, and installed a steel box frame to support the flats above.
This change, along with the addition of a full-width skylight over the stairs, flooded the home with natural light, making a remarkable difference on the previous windowless kitchen.

A greater illusion of space was also achieved with reflective white-painted walls throughout. More so, strategically placed mirrors were integrated into the kitchen, bathrooms, and multifunctional spaces, and modern, lightweight furnishings were selected to fit the scale of the home.
Project Credits:
Architect of Record: HUTCH design
Builder/General Contractor: AK Decorating & Building Services
Structural Engineer: Vincent Grant Partnership/ Graham Grant
Lighting/ Interior/ Cabinetry Design: HUTCH design
Other: MLM Building Control
Where to Stay in London