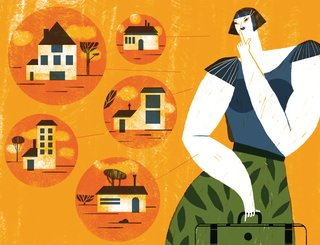 Here's What You Should Know About Rent Relief During the Pandemic
Aside from the stimulus bill, state and local governments are stepping up to provide rent relief during the new coronavirus outbreak.
For the millions of Americans who have lost their jobs, suffered a pay cut, or been furloughed due to the new coronavirus outbreak, making April's rent payment may not be possible. If you're one of the vast numbers affected by the pandemic and worried about rent, or eviction, here are a few things you should know.
No Evictions Are Allowed in Properties With Federally Backed Loans
Starting March 27, the CARES Act stimulus package has enacted a 120-day moratorium on evictions of renters living in properties with federally backed mortgages. What this means is that if your landlord has a mortgage owned by Fannie Mae, Freddie Mac, or the F.H.A.—that's about 80% of all mortgages in the nation, according to AARP—your landlord cannot serve you with an eviction notice and cannot charge fees, penalties, or other charges related to nonpayment of rent from March 27 until July 25, 2020.

If you don't know who owns your landlord's mortgage, you'll need to talk to your landlord or rental company. If they do have a federally backed mortgage, they can request forbearance; even if they do not have forebearance, landlords cannot evict tenants or charge late fees for 120 days. Note that the moratorium on evictions is not rent forgiveness, but does provide temporary relief so that you can safely shelter in place and talk to your landlord about future payment plans.
Some Local and State Governments Have Suspended Eviction Actions
From Arizona to New York, governors of some states have issued executive orders to temporarily halt evictions for people who have been impacted by COVID-19. Some local governments and even police departments have also ordered a pause on evictions in cases where no statewide order exists. The terms around eviction suspensions vary by state and by county; to see if an eviction moratorium applies to your situation, check your local and state government websites.
The CARES Act Includes Money for Emergency Rental Assistance
In addition to bolstering unemployment benefits and providing direct cash payments to Americans, the $2 trillion stimulus package has set aside $12 billion for the Department of Housing and Urban Development (HUD), which oversees a variety of housing assistance programs. Included in this amount is $5 billion earmarked for Community Development Block Grant funds that can be used to provide emergency rental assistance. Moreover, nearly $150 billion of funding will go to state and local governments for coronavirus relief. As is often, however, it can be a challenge to find out where exactly that grant money goes.
Our advice is to pay very close attention to your local and state news. County, city, and state governments are offering different kinds of rental assistance. For instance, Chicago just announced a new COVID-19 Housing Assistance Grant Program to provide 2,000 Chicagoans with $1,000 grants for rent or mortgage relief. For additional housing support resources, visit Justshelter.org for a list of local organizations that can provide advice to renters.
Let Your Landlord Know if You're Having Trouble Making Rent
If you're able to pay this month's rent but feel uncertain about the future, it's a good idea to talk to your landlord as soon as possible so you can discuss possible payment plans or temporary rent reductions. You should also remember to ask your landlord if their mortgage is federally backed—for instance, they can see if Fannie Mae or Freddie Mac owns their loan using online look-up tools—in which case they may qualify for year-long forbearance. If the loan isn't federally backed, your landlord can still qualify for certain forbearance options depending on their bank.
Remember that even if your area has a moratorium on evictions for coronavirus-related nonpayments, you will owe all the rent accrued from previous months once the moratorium ends. If your landlord gets forbearance, however, he or she cannot evict you or charge late fees for that period.
Is a Rent Freeze Possible?
Don't count on a rent freeze happening. However, these are unprecedented times and, in New York, state senator Michael Gianaris has introduced a bill proposing a 90-day rent freeze for residential tenants and small businesses affected by the coronavirus. According to Bloomberg News, local New York officials have also floated an idea to allow tenants to use existing security deposits to pay April rent. While the future of these proposals are still unclear, if New York successfully passes these measures, other states may follow suit.
As we enter April, some Americans won't make rent, but a large number will at least temporarily be protected against evictions. The real problem is what happens when the unpaid bills pile up into May, June, and beyond. As governments prepare for worst-case scenarios, take heart in knowing that new relief measures will continually be introduced at the local, state, and federal levels, and that it is important to reach out to your landlord, your creditors, and your local relief agencies to talk through your options.
Related Reading: How to Get Mortgage Relief if Your Income Is Affected by the Coronavirus Pandemic
Get the Dwell Newsletter
Be the first to see our latest home tours, design news, and more.