How One Family of Three Does It All in 675 Square Feet
A growing family in Brooklyn downsizes their living space while expanding their collective quality of life.
Finding an almost affordable apartment in New York can be harder than uncovering the proverbial needle in a haystack. While the hunt has never been easy, the past few years have been almost impossible, with sky-high prices, pent-up demand, and a scarcity of available inventory. That was the market that David Friedlander and Jacqueline Schmidt faced when they found they were soon to be parents. Their 500-square-foot rental in Brooklyn's Park Slope just wasn't big enough for three. After a frustrating, unrewarding search, they decided to move upstate to Beacon, where they envisioned a bucolic country life. Instead they felt isolated, needing a car just to go grocery shopping or see a movie. They missed the city, its easy access to friends, food, and entertainment, and the joy of just walking around. They started hunting in the city again and finally found something suitable and made a bid, which was accepted. But they hesitated, because a high price tag for a 700-square-foot apartment was a real stretch that meant they wouldn't be able to afford any kind of renovation. At the 11th hour, searching on Trulia, the residential real estate site, they discovered a small two-bedroom apartment, a fourth-floor walkup in Brooklyn's Windsor Terrace neighborhood. It was in terrible shape, but its significantly lower price tag—around 40 percent less—meant they would be able to rehaul it completely. "This place was a dump," declares Schmidt, explaining that the floors were warped, there were three layers of Sheetrock on the walls, and the ceilings were dropped. But she saw the bones and knew what they could do with the space. The unit had other advantages: It faced Prospect Park—a glorious green expanse—it had storage in the basement and stroller parking, and it was in a very good school district.
Newsletter
Join the Renovations Mailing List
Get carefully curated content filled with inspiring homes from around the world, innovative new products, and the best in modern design
The couple bought the apartment in October 2013 and started renovation in early December because the co-op board approved their renovation plans in one weekend. Four months later, they moved into their now sun-drenched space. The only things that hadn't changed were the front door and the windows (although a few were added); every room in the apartment now has one. Walls were moved, the bathroom was gutted, the kitchen became a galley, and the two bedrooms were made especially spacious thanks to wall-mounted Murphy beds from Resource Furniture in both the master bedroom and that of two-year-old Finn (who will soon have a baby sister or brother). The folding beds are the critical element in the space-saving design. Because they fold out of sight (very easily insists Friedlander, doing a Vanna-like on-the-spot demonstration), the couple were able to create an uncluttered, L-shaped living area. A custom-made sliding door closes off the bedroom when privacy is needed, and built-in storage in Finn's room will provide enough space for the new baby.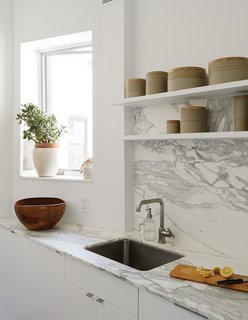 Another reason the apartment feels especially open and light is the absence of tchotchkes. Before marrying Friedlander, Schmidt—an illustrator and children's book author who has her own paper goods company, Screech Owl Design—had lived in a 1,200-square-foot loft in Greenpoint that was filled with furniture, objects, and thousands of art books. But as a true convert to the philosophy of LifeEdited, the company for which Friedlander works as communications director, she spent the past year and a half selling off everything on eBay, Craigslist, and Etsy. LifeEdited, a firm started by TreeHugger founder Graham Hill, consults and works with developers to create small living spaces. Its website proclaims that it's dedicated to showing you how to "design your life to include more money, health, and happiness with less stuff, space, and energy." "We practice what we preach," says Friedlander proudly. People usually try to fit their old furnishings into a new space, but, says Schmidt, "We fit ourselves into the space." She shows off half-empty drawers in their compact kitchen, which is lined with cabinets from Ikea and filled with Fagor appliances designed for small spaces. But the kitchen feels elegant thanks to a Calacatta Borghini marble countertop and backsplash from Ann Sacks, which is honed, not polished, she stresses, because honed marble wears better. The small bathroom is also given a luxe treatment, with marble tiles and floors and Kohler appliances. Another splurge was the wide-planked European oak floors.
They were able to make these expensive choices partly because the spaces were small and didn't require a lot of any one material. And, since the apartment cost so much less than the one they had originally planned to buy, they were able to rationalize their spending. Schmidt conceived the design of the space by herself after using architect David Bucovy to create working drawings. LifeEdited's design team pitched in whenever advice was needed, and the house-proud couple claim that they are living examples of the company's motto: Their home is all about "the luxury of less."