Go Beyond the Basics in an Australian Fashion Designer's Surf-Inspired Bali Hotel
The Slow offers much more than boutique accommodations, steeping guests in a curated experience that blends art across several disciplines.
A new kind of hotel has sprung up on the Canggu beach in southern Bali. The Slow—the brainchild of George Gorrow, the designer behind streetwear label Ksubi, and his wife Cisco, a model—combines art, fashion, music, and food for an immersive experience that blends Indonesian and contemporary surf cultures.
George collaborated with architect Rieky J. Sanur of GFAB Architects to create the work of "Tropical Brutalism." The 12-room hotel presents a striking facade of native Bangkirai hardwood screens, chosen for its resilience in tropical climes. Inside, local materials and area-produced crafts and furniture create a warm, textured atmosphere that displays George and Cisco's personal art collection of over 90 pieces.
Room 13 holds a gallery that showcases their own pieces alongside changing solo exhibitions (photographer Woody Gooch is on display until June 30), while Room 14 serves as the flagship store for NON-TYPE, a new lifestyle brand by George and his Ksubi collaborator Gareth Moody.
Head chef Shannon Moran is at the helm of Eat & Drink, whose seasonal menu draws from his travels through Europe, South America, and Asia. All throughout the venue, curated tunes from Reverberation Radio, a weekly podcast by Los Angeles-based band Allah-Las, adds to the alt-island vibe.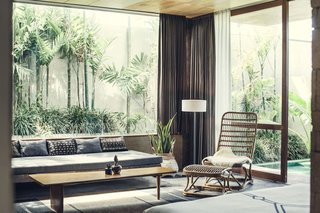 Suites run between $200 and $300 a night. To book a stay, check out The Slow online.