View Photos
Before & After: A 1986 Fleetwood Trailer Gets a Cozy, Colorful DIY Makeover
Though the floor plan remains unchanged, a few simple, cosmetic alterations go a long way in turning a frumpy 1986 RV into a comfortable, beautiful modern home.
In Spring 2018, printmaker Elyse DeLisle and her partner Amanda Goelz saw a 1986 Fleetwood Avion on Craigslist—and they snapped it up the following day at Robbins Camper Sales in Ormond Beach, Florida. Luckily for them, the 240-square-foot trailer was so structurally sound that there wasn't any need to replace the subflooring or walls.

The original layout had generous storage capacity and suited them just fine—all it needed was a number of well-considered cosmetic alterations. "We kept all of the original wood cabinetry because it was so well made and fitted the space so well," says DeLisle. "Painting was the longest process because we had to remove all of the cabinets and cover sections of the trailer before using a spray gun to paint," she adds.
Before: The Living Area
Newsletter
Join the Renovations Newsletter
Get carefully curated content filled with inspiring homes from around the world, innovative new products, and the best in modern design
After: The Living Area
Aside from its outdated fabric, the couch in the living area was in great shape. DeLisle and Goelz had it reupholstered with auto interior fabric so that it would last a long time, even with their two cats—Pig and Poe—frequently running across it.
Before: The Hallway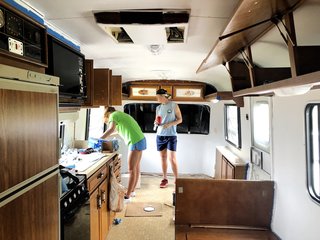 After: The Hallway
The duo built a small cat door that hides a litter box in one of the existing storage compartments. They also built a false wall to support a mounted TV, installed a foldout desk, and replaced the ceiling fan.

Before: The Kitchen
After: The Kitchen
They painted the ceiling and walls throughout the trailer, repainted the cabinets, fabricated and installed butcher block countertops, laid a tile backsplash, and replaced all the cabinet hardware, lighting, and fans.

Before: The Dining Area
After: The Dining Area
In the dining area, they replaced the dinette table with a table top they made themselves, reupholstered the dinette seating, and installed reclaimed wood walls.
Before: The Bedroom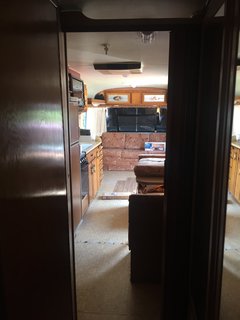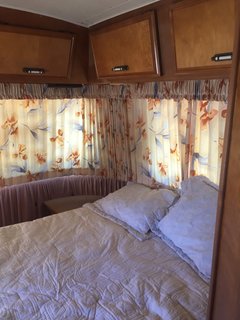 After: The Bedroom
Shop the Look
DeLisle and Goelz removed the accordion hallway doors that led into the bedroom, as well as an old nightstand and TV. They replaced the mattress, bedding, and curtains, and installed small shelf units.

Before: The Bathroom
After: The Bathroom
The duo painted the bathroom vanity, replaced the toilet and shower hardware, installed new wallpaper, and refinished the bathtub/shower. Before hitting the road, DeLisle and Goelz replaced the tires, the air-conditioning unit, and all the vent fans.
"We've been living here since August 2018. We absolutely love being able to see new parts of the country while taking our home with us. We've traveled through Florida, Alabama, Louisiana, Texas, New Mexico, Colorado, Arizona, Utah, Nevada, California, and seen some pretty unreal landscapes along the way," says DeLisle.
Related Reading: Bold Wallpaper Brings Dreamy Vibes to a Dated Airstream, Dwell's Top 10 Campers and Trailers of 2018
Project Credits:
Interior Design: Elyse DeLisle and Amanda Goelz / @gerryontheroad, @delisle.prints