12 Futuristic Homes That Look Like They Belong in Outer Space
With NASA's InSight lander roving across Mars, we have space travel on our minds. These sci-fi homes show us what life might look like if we lived on other planets.
On November 26, 2018, after a six-month journey across 300 million miles of space, NASA's InSight lander safely reached Mars. The InSight's mission is to study the deep interior of the Red Planet and report back with stunning images and findings in preparation for possible astronaut landings in the future.
While Mars has captured the imaginations of sci-fi enthusiasts for centuries, the actuality of living on the desolate planet is still far in the future. In the meantime, we probed around on our very own Earth to seek out 12 futuristic, space-inspired homes that look as though they might have been designed and built in a galaxy far, far away.
1. MARS Case Prototype
Beijing based OPEN Architecture teamed up with Chinese electronics giant Xiaomi to create MARS Case, a housing prototype that would allow humans to overcome the challenges of living in a punishing, Martian environment.
Newsletter
Join the Daily Dose Newsletter
Get carefully curated content filled with inspiring homes from around the world, innovative new products, and the best in modern design
Designed by Finnish architect Seppo Mäntylä and manufactured by Finnish log home maker Polar Life Haus, Wave House's aerodynamic, spaceship-like exteriors are constructed from solid wood, glass, and steel.
On the edge of Joshua Tree National Park, set within an otherworldly landscape, High Desert House is a modern organic masterpiece designed by San Diego architect Kendrick Bangs Kellogg that would look right at home on the set of a Star Wars film.
Architect Stefan Hitthaler saw promise in this 1973 holiday cabin near the South Tyrolean town of Brunico, and remodeled it to become a 660-square-foot, UFO-like residence that pays homage to the the bold charms of midcentury Space Age design.
In the green enclave of La Moraleja, on the outskirts of Madrid, Barcelona–based design-build firm NOEM has created a prefab home with all the high-tech gizmos of a spaceship. Aptly named Spaceship House, the structure is raised 12 feet off the ground to offer better views of the landscape. "He basically told us he wanted a mothership," says Pol Guiu, cofounder of NOEM, of the brief he received from the house's owner.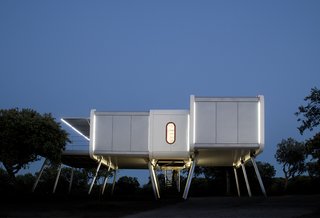 Architects Peter and Lukas Jungmann created this holiday cabin in the Austrian countryside with an irregular, otherworldly form that appears to hover, like an unidentified flying object, in midair. They named the shingled cabin Ufogel, which is a melding of the acronym UFO and vogel, which means bird in German.
Looking like a sleek space command center, Stabb Residence by Chen + Suchart Studio in Scottsdale, Arizona, features a facade of stainless steel and coated glass, so the the upstairs volume seems to hover over the thick masonry walls and change colors with the shifting sky.
Like an apparition from the Twilight Zone, Los Terrenos House by Mexico City–based architect Tatiana Bilbao has exterior walls of mirrored glass, which creates the illusion of a house that "disappears" into the forest.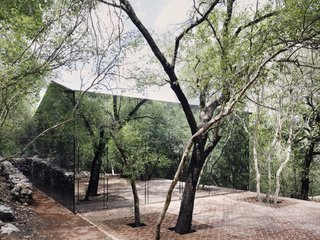 Created by Tarvisio–based architect Claudio Beltrame in collaboration with DomusGaia, an Italian firm that manufactures wooden prefabricated homes, the Pigna Tree House is shaped like an egg, or alien pod, and has a domed bedroom with a skylight right above it.
Inspired by trees, architect Akihisa Hirata designed this Tokyo multi-residential building as a three-dimensionally stacked, concrete complex that includes garden areas and stairs that appear to hang off the building's edges.
This copper-clad, futuristic, six-unit apartment building set on a hillside in the Dolomites was designed by Plasma Studio with a highly geometric form and balconies that extrude from the facade.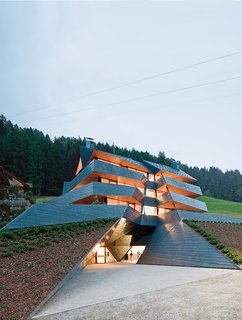 Iraqi-British architect Zaha Hadid's only residential project in Russia, this house in the Barvikha Forest near Moscow emerges from its sloping, forested site like a serpentine-like creature from outer space. The house's master suite is contained in a separate volume that "floats" 72 feet above the ground for spectacular views.