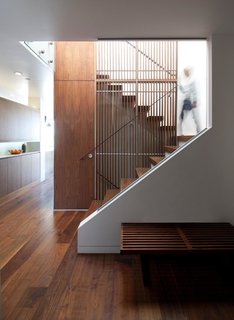 View 16

Photos
Before & After: A Choppy San Francisco Duplex Becomes a Svelte Multigenerational Home
Persevering through a roller-coaster renovation, a San Francisco family makes room for extended relatives in their revamped hillside retreat.
When Jeff and Carla moved from Alameda to San Francisco, they narrowly missed out on a turnkey single-family home in Noe Valley before stumbling upon a major fixer-upper steps from Buena Vista Park.
"The place we almost got in Noe was a single-family home that had already been redone," recalls Jeff. "We saw it early on in our process, and thought, 'Yeah, that has everything we want,' so we called, and they had just sold it in the last 24 hours."
As their search continued, the couple came across a two-unit dwelling with stunning views that could be a home for their family, as well as an income property—and they immediately knew it was the one. "For me, it was when I walked up the stairs and saw the view. I'm a view person," says Jeff. "It all felt right. It had potential."
Before: Media Room
After: Media Room

At the time, the owners were expecting their first child—the major impetus for their move. Carla, a professor, worked in the city, and Jeff, the VP of a software company, traveled frequently for his job, so San Francisco was the ideal place to start a family. Their bid on the property was successful, and they purchased the duplex just one month before their daughter was born.
What the property had in potential, it lacked in livability and functionality. "It was a strange place," recalls Jeff. Built in 1912, it was haphazardly renovated in the 1940s. "It was a weird sort of mélange of old bits and pieces. Nothing matched. Every floor had different style windows. Each bathroom was different from the others. There was no cohesive design."

Before: Master Bathroom
After: Master Bathroom
Despite the visual hodgepodge of the duplex, the couple was drawn to the alluring light and views, and saw opportunity in a spacious undeveloped attic. Their initial plan was straightforward—build out the attic and add dormers to make the space more usable. "I don't think initially we were like, 'Yes, let's rip off everything inside and out. That was later," Jeff remembers. "Our initial idea was to do a much lighter remodel—to do whatever we needed to do seismically, then just make it work and rent out the bottom unit."

They were living in the lower unit when plans changed. "We lived downstairs while we planned the renovation of the top unit – that's when we figured out we wanted to do a more complete renovation," says Jeff. It was also at this time that Jeff's parents, who lived in London, decided they were going to relocate to the Bay Area. Although they'd have their own full-time residence up north, they wanted a part-time place in the city—and moving into the lower unit was a natural fit.
Before: Kitchen
After: Kitchen
With the pivot in design plans, the couple brought on an architect to redesign the home inside and out, planning a vertical expansion at the attic level and a gut renovation throughout. Carefully navigating planning department requirements and the neighborhood notification process, they successfully received their building permit and began demolition and foundation work. Then, everything came to a halt.

"We worked with the initial folks on the project for about a year before we thought, 'This just isn't going the way we wanted it to,'" says Jeff. "Then we stopped." Not completely happy with the final design or process, they wondered if they would have to start over.
Cautiously facing a daunting course correction, the couple reached out to Kelli Franz and Seth Paré-Mayer of atelier KS, who they stumbled across after seeing their Sunset District Renovation in Dwell. Paré-Mayer and Franz thought carefully before taking on the project. "We don't usually like to just step in and finish someone else's work," says Paré-Mayer. With this project, however, "The clients expressed that they wanted to take it in another direction—so it was kind of like starting over. They said, 'We're going to do something different. We want your ideas.'"
Before: Entry Stair
After: Entry Stair
Before: Lower Stair
After: Lower Stair
From the onset, the clients were understandably adamant about preserving the exterior envelope—to avoid the added time and hassle of another round of neighborhood notification. "It was a long process by itself—just to get it signed off by the neighbors," says Jeff. "Even though we had ideas to push things out a little farther, that was going to trigger us to go back to everybody again, and we didn't want to do that."

Everything apart from the building's shell—the facade, openings, and everything inside—would change. "There was a defined overall envelope, but we had to go back for a huge revision in order to update the facade," says Franz. "But we didn't change anything that would require more notification or in-depth review," adds Paré-Mayer.
Before: Upper Stair
After: Upper Stair
Although the proportions and massing of the building remained the same, the facade was updated to add additional (and larger) openings, deck access, and overhangs for visual depth. Reorganizing the interior layout to make it more functional and family friendly was a central objective during the architectural change of hands.

"The layout was kind of jumbled," recalls Franz. Starting from square one, the design team took inspiration from the site itself as they reimagined the interior space. "Because of how unique it was—it's a tower; there are views on four sides—we had to decide what side the master bedroom was on, what side the public space was on…we went back and forth."
Before: Exterior
After: Exterior
The unique lot, and numerous opportunities for views, inundated Franz and Paré-Mayer with design options. "In San Francisco, a lot of things are more intuitive usually—for instance, what side things should be on," says Franz. "This was more of a discussion." "All good choices," adds Paré-Mayer. In the end, they decided to give the exterior porch to the master bedroom on the upper level, "instead of giving it to the kids and worrying about them," says Franz. On the lower level, the kitchen was relocated and the public space was oriented toward the northern views, connected functionally to the backyard.
A standout design feature on the interior is the slatted wood screen, a walnut and metal custom fabrication. "The idea was: one, there's a skylight on top, so to bring light in, but also to be able to see [the screen] from most angles, even from Jeff's office, instead of looking at a wall," explains Paré-Mayer.
After: Stair Screen Detail
Despite being on the lower level, the "in-law" unit is flooded with light, and fully above grade. Coupled with the site being an atypical interior lot—it touches eight other lots—views are uninhibited, and the outlook is far from claustrophobic. "If it wasn't for the hill and the topography, it would feel overwhelming I think," reflects Franz. A massive deck on the lower unit connects to the backyard—a public outdoor space that can be shared by the whole family.

Through successes and setbacks, weathering the ups and downs of a complicated renovation process rewarded Jeff and Carla with a home that can be enjoyed by children, grandparents, friends, and family for years to come.
More Bay Area Before & After stories:
This San Francisco Dwelling Feels Like a Japanese Ski Cabin
A Car Shop in San Francisco Is Reborn as an Artist's Loft, Gallery, and Studio
A Stuffy Bay Area Midcentury Opens Up to Light and Hillside Views
Project Credits:

Architect : atelier KS
Builder: Mascheroni Construction
Structural Engineer: SEMCO
Cabinetry Design: J Style at Home
Want to tell us your own Before & After story? See our submissions guidelines.