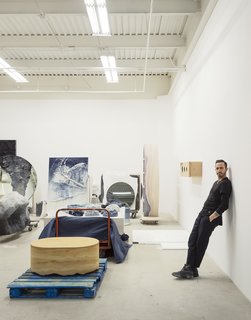 Watch: Inside the Studio of Designer and Materials Master Fernando Mastrangelo
Designer Fernando Mastrangelo is a master at pushing the limits of media, both material and social.
Standing in Fernando Mastrangelo's studio in an industrial section of Brooklyn, the last thing you'd expect to see is a man in a business suit from Dallas turning up to buy a bowl. The visitor, for his part, looks a little astonished at the cavernous space and the busy young people wearing pink particle masks who surround him. But his daughter saw the bowl on Instagram and sent him a text with a photo and address, and now here he is, making a pit stop on the way to the airport at the end of a business trip.
Join Dwell+ to Continue
Subscribe to Dwell+ to get everything you already love about Dwell, plus exclusive home tours, video features, how-to guides, access to the Dwell archive, and more.
Exclusive Home Tours
Unlock premium stories only available to subscribers.
Visit the best modern homes in the world with video tours, original photography, and more.
The Dwell Archive
Dig into years of Dwell magazine.
Browse by date or issue on any device, and check out our curated rotation of favorite stories.
Sourcebook
The definitive list of products and professionals.
Explore our essential resource for finding everyone—from designers to brands—featured in Dwell.