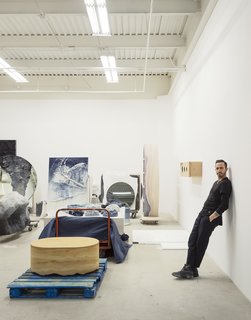 Watch: Inside the Studio of Designer and Materials Master Fernando Mastrangelo
Designer Fernando Mastrangelo is a master at pushing the limits of media, both material and social.
Standing in Fernando Mastrangelo's studio in an industrial section of Brooklyn, the last thing you'd expect to see is a man in a business suit from Dallas turning up to buy a bowl. The visitor, for his part, looks a little astonished at the cavernous space and the busy young people wearing pink particle masks who surround him. But his daughter saw the bowl on Instagram and sent him a text with a photo and address, and now here he is, making a pit stop on the way to the airport at the end of a business trip.
Join Dwell+ to Continue
Subscribe to Dwell+ to get everything you already love about Dwell, plus exclusive home tours, video features, how-to guides, access to the Dwell archive, and more.