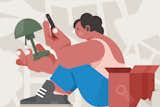 Flipping the Switch on Fast Furniture
Cheap, on-trend offerings might inundate TikTok, but some creators focused on sustainability show buying ethically doesn't have to cost more.
Welcome to The Trend Times, a column that explores design fads in the age of doomscrolling.

Scrolling through TikTok, it can sometimes feel like the algorithm is a capitalist machine pushing you to buy things you never knew you needed but suddenly desperately crave. According to the company, TikTokers are 49 percent more likely to post product or service reviews than the average internet user, frequently selling out "viral" products under the #TikTokMadeMeBuyIt hashtag, which has over 19 billion views.
And for what felt like an eternity—but was probably just a week sometime this year—the object of obsession du jour was the Ultrafragola Mirror/Lamp; even though it was designed by Ettore Sottsass in 1970, it aligns almost too perfectly with the nursery chic aesthetic that's currently trending. I've always lusted after this playful piece, but simply wrote off an Italian mirror that's going for over $10,000 on First Dibs as out of my price range. Until the TikTok girlies discovered a solution.
My friend who was moving and needed to furnish a whole house texted, wondering what I thought: should she order a "dupe" from China, using a website like Alibaba or Aliexpress? Yes, it would still cost over $1,000 once shipping was included, and take god knows how long to arrive, but was it worth it anyway? I'd seen this kind of thing before with couches, too. One woman claims, for example, that you can get a "custom togo couch" from the same Chinese manufacturer as the original, even though actual Togos are all made by Ligne Roset in France.
The ethics of knock-offs aside, one buys a mirror made in China for the same reason they buy a mesh shirt on Shein for $2—though the connection between fast furniture and fast fashion isn't made nearly enough. Called flat pack or Ready-to-Assemble (RTA) furniture because it often comes disassembled in a box, your Amazon chair is cheap because labor in China costs far less than labor in the U.S., it can be made super quickly, and it's lightweight, which makes it easy to distribute. As opposed to being made of pure (heavy) wood, as most furniture was before the mid-20th century, RTA is composed of lightweight particleboard or medium-density fiberboard—essentially compressed wood particles, often glued together with glue or held together by plastic.
Anyone who has owned one of the Billy bookcases made every three seconds knows they are not "made to last," but that doesn't really appear to bother younger people, especially ones who grew up online shopping. For many, fast, easy, and cheap are expectations built into the consumer experience. There are also other forces at work: Unlike their grandparents, who had the privilege of buying a house and staying there for the next 50 years, Millennials are broke, nomadic renters. Perhaps they don't care if something has staying power because they will probably move to a new apartment with new dimensions next year. Interior decor trends cycle through at a dizzying rate not just as a byproduct of social media, but the fickle cultural forces that shape our lives.
Though it seems many buyers are somewhat aware that fast fashion is problematic, few contend with what happens when you toss a Wayfair end table into the dumpster in favor of the latest cottagecore craze. Something like 12 million tons of furniture and furnishings waste (also known as f-waste) is created every year, and most of it can't be recycled because of what it's made of. For context, in 1960 the number was 2 million tons—and a growth in population does not explain this 567 percent jump. (Even just between 2005 and 2018, furniture waste grew by 30 percent.)
As with fast fashion, given the societal issues driving the popularity of RTA furniture, it's unfair to place the burden of reducing waste entirely on an individual. The lion's share of the responsibility should fall on the massive corporations who create it, and the governments who regulate them. Similarly, insisting someone is morally bankrupt because they can't afford to buy a handmade dining table from a local craftsman for more than they make in a month is absurd.
But it's not an either/or; throwing your hands up entirely as an individual elides the fact that there are more resources than ever to procure affordable, sustainable and unique furniture—and some of it is even free! My interest in used furniture in particular didn't start as a noble pursuit; I've always been addicted to the hunt. I like that vintage pieces make it difficult for your house to look like an Ikea showroom—and what a bonus that a bookshelf from 1955 doesn't shake when you put books on it! During the pandemic, when I wasn't free to roam my local Salvation Army, I became obsessed with digital alternatives, which I discovered are even better and cheaper. Facebook marketplace, OfferUp, and my neighborhood Buy Nothing Group are littered with people who want to sell their stuff and are in such a hurry they don't really care about making money. Others just enjoy giving away things of value for cheap, or free.
Though it feels like it's happening in an entirely different world, somehow, there's a community of creators who are passionate about decorating sustainably operating inside the "mall" that is TikTok. They're dedicated to showing you how buying locally (or even just dumpster diving at HomeGoods) can benefit more than just your aesthetic. In the last year, the hashtag "#furnitureflip" has grown by 23 percent, as users aim to emulate the work of people like @graceful_designs_diy, who teaches almost 600,000 followers how to save furniture from landfills and gussy it up, and Amanda Smeltzer, a 30-year-old who flips furniture she finds on the side of the road to pay off her student loans.
Rehabbing furniture is outside of my capabilities, and is admittedly a very big ask for your average consumer, but you don't need to literally do it yourself to reap the benefits of consuming this kind of content. These creators inspire us to start thinking more creatively about our purchasing power, and what's already available around us. If someone can do this to a set of $20 dollar bedside tables, surely you can take a couple more minutes to peruse Craigslist before pressing "order" on Amazon.
When my friend asked me if she should buy the knock-off Ultrafragola mirror, I asked her to think about what she could get locally with that same budget. Having just moved to Milwaukee, was it not worth investigating what's at a garage sale or OfferUp? Or maybe there's even a local artist who would make something custom for half the price?
We both agreed it was better to skip this viral trend and instead go bargain hunting at the flea market in her new city. Now, six months later, we both laugh at how the Ultrafragola mirror dupe from China would probably just be arriving; we'd already long forgotten that it once ruled our timelines.
Top illustration by Tiago Galo.
Related Reading:
Gorgeous Gorgeous Girls Love Nursery Chic
Get the Dwell Newsletter
Be the first to see our latest home tours, design news, and more.