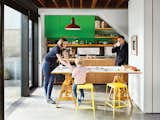 40 Eco-Friendly Gifts for the Sustainability Obsessee
If their everyday mantra sounds something like "reduce, reuse, recycle," these eco-conscious gifts won't weigh on their conscience.
Looking for something else? Check out the rest of our holiday gift guides here.

We love the products we feature and hope you do, too. If you buy something through a link on the site, we may earn an affiliate commission.
Get the Shop Newsletter
Smart shopping for the design obsessed. Find what you love in our expertly curated selection of finely crafted home, office, travel, and lifestyle products.