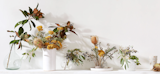 The 14 Sustainable Swaps You Might Not Be Making
Easy peasy: There are a ton of simple ways to make a positive impact on Mother Earth without drastically altering your daily routine.
We can all benefit from thinking more mindfully about the products we use. Whether you're brand new to the sustainability game or are looking for even more ways to reduce your eco footprint by switching to these earth-friendly options.
Ditch Your Plastic Baggies
Single-Use Paper Towels? A Thing of the Past
Invest in Nontoxic Cookware
Compost Your Food Scraps
Break Up With Plastic Cling Wrap
Avoid Stale Snacks (and Food Waste)
Clean Up Your Bathroom Routine
Prevent Microfibers From Polluting Our Waterways
Make the Switch to Organic Bedding
Invest in Eco-Friendly Furniture That's Sure to Last a Lifetime
Dodge Plastic Bags in the Produce Section
Add Earth-Friendly Products to Your Cleaning Routine
Get the Shop Newsletter
Smart shopping for the design obsessed. Find what you love in our expertly curated selection of finely crafted home, office, travel, and lifestyle products.