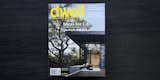 Editor's Letter: Ideas for Life
Here is the best idea for life: Choose to be extraordinary.
No matter who you are, you can overcome obstacles with imagination and focus. This is the practice of good design—finding the right tools to identify hidden opportunities. Learning how to see, as George Nelson advised, is essential, because it is the invisible details that shape our lives.
Join Dwell+ to Continue
Subscribe to Dwell+ to get everything you already love about Dwell, plus exclusive home tours, video features, how-to guides, access to the Dwell archive, and more. You can cancel at any time.