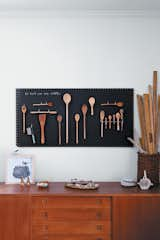 DIY Black Chalkboard Pegboard by Margaret Oomen
Sometimes the pursuit of a simple accessory can result in a surprising upshot. Margaret Oomen was well into the process of reappropriating a portion of her dining room for use as a creative studio, but six months of searching for the perfect vintage pegboard turned up no solid leads. Oomen, a family doctor and crafty blogger based north of Toronto, had conceded to purchase a new one when ingenuity struck in the aisles of Home Depot.
Two quick and cheap coats of chalkboard paint transformed the standard panel into a customized domestic exhibition space. Her spoon collection made its debut—"I love the contrast of the warm golden woods against the black"—but she plans on rotating the displays. "I'd like to mount antlers and bones I've found and sketch animals around them," she says. "Or test it out as a seasonal light board; do dot-to-dot pictures; even experiment with a large-scale modern cross-stitch design using thick wool or jute." You can't always get what you want, but if you try sometimes, you just might find you get what you never knew you needed.

Join Dwell+ to Continue
Subscribe to Dwell+ to get everything you already love about Dwell, plus exclusive home tours, video features, how-to guides, access to the Dwell archive, and more. You can cancel at any time.