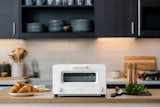 7 Toaster Ovens That Are Worthy of Gracing Your Countertop
These design-forward toaster ovens are the best things since sliced bread.
Gone are the days of the clunky toaster with limited functionality. Today's top toaster ovens won't ever feel like a waste of space or have you doubting your decision to move beyond a simple dual-slot design. Some double as air fryers, and some just look too good to pass up—but all are worth splitting the difference on the toaster/oven spectrum.
Fill up on the Latest in Kitchen Design
Discover inspired kitchens and get design advice for the heart of your home.