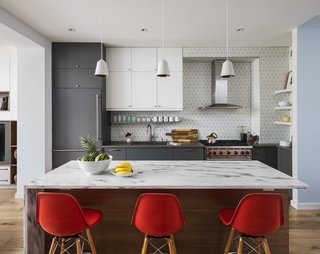 Budget Breakdown: A Brooklyn Brownstone Gets a Vibrant Renovation For $910K
When a Brooklyn-based couple sought to renovate a brownstone in Crown Heights, they knew exactly which architect they wanted for the job. If only the rest of the work was that easy.
Sometimes you lose before you win. That's the underlying lesson that Brooklyn couple Thomas and Jon learned about house hunting in the borough—well, at least in the beginning. When it all started, the pair had put a bid on a home in Sunset Park because they liked the style of its renovation. But alas, their bid wasn't successful. When the sellers gave them the bad news, they did the next best thing and asked for the person responsible for the work: It was Alexandra Barker of BFDO Architects.
Join Dwell+ to Continue
Subscribe to Dwell+ to get everything you already love about Dwell, plus exclusive home tours, video features, how-to guides, access to the Dwell archive, and more.