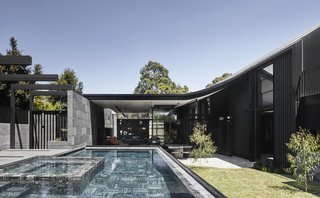 This Australian Home Frames Theatrical Moments With Rough and Shimmering Surfaces
Splinter Society Architecture designs a versatile home that is full of high drama—from a sweeping roofline to light-reflecting stone and aluminum.
As you walk toward Cornerstone House in Melbourne's leafy suburb of Northcote, you are treated to the first glimpses of a performance that is about to begin. Long ribbons of black plate aluminum, twisted to create the sense of a rippling curtain, run the full height of the front facade. 
Join Dwell+ to Continue
Subscribe to Dwell+ to get everything you already love about Dwell, plus exclusive home tours, video features, how-to guides, access to the Dwell archive, and more.
Exclusive Home Tours
Unlock premium stories only available to subscribers.
Visit the best modern homes in the world with video tours, original photography, and more.
The Dwell Archive
Dig into years of Dwell magazine.
Browse by date or issue on any device, and check out our curated rotation of favorite stories.
Sourcebook
The definitive list of products and professionals.
Explore our essential resource for finding everyone—from designers to brands—featured in Dwell.