View Photos
Budget Breakdown: A Prison Bus Becomes a Couple's First Home For $26K
A young couple converts a 31-foot, 1989 Chevy B6P bus that was formerly a prison transport vehicle into a charming tiny home.
When Meag and Ben Poirier were living in Maine in 2016, they snapped up a 31-foot bus on Craigslist for $8,000, planning to convert it into their first home. The bus, previously a prison transport vehicle and a mobile command center for the Sherriff's Department in Fairfax County, Virginia, had a storied history, and its previous owner had planned to transform the bus himself. After turning down several other potential buyers who wanted to strip it for parts, he was thrilled to connect with the Poiriers.
$8,000
1989 Chevy Bus
$1,000
Tools
$850
Miscellaneous Supplies
$900
Lumber
$900
Paint
$1,600
Furniture, Fixtures, & Appliances
$1,500
Hot Water & Plumbing
$1,405
Wood Stove & Tile Hearth
$1,030
Composting Toilet
$3,900
Solar Power
$575
16-Month Registration
$4,450
Repairs & Maintenance
Grand Total: $26,160
The original interiors were set up like a mobile command center with server stands, long tables, rows of electrical outlets for equipment, six seats, three locking prison cage doors segmenting the interior, and bars on the windows.
Newsletter
Join the Renovations Newsletter
Get carefully curated content filled with inspiring homes from around the world, innovative new products, and the best in modern design
For the next two years, the Poiriers spent most weekends working on the bus themselves, converting it into a 165-square-foot home.

Further along is the kitchen to the right of the driver's area, and the dining area to the left.

"Everything from the cabinets and drawers to the bed frame and curtains are fully custom; we made it all from scratch," says Ben, who has since driven the completed bus to its current site in Gorham, New Hamsphire, where the Poiriers now live with their dog, Moose.
Shop the Look
A recycled and re-milled factory maple and beech blend from Longleaf Lumber in Berwick, Maine, was used for the floors, cabinet face frames, upper wall panels, and the tops of the bathroom and shower.
Beyond the hearth is a composting toilet and tub shower.
The couple's queen-sized bed is located at the back of the bus, and raised on a platform with clothing and electronics storage underneath.

"We are able to spend extended periods of time boondocking in beautiful and remote areas of the country with these systems in place," says Meag. "Our lights, refrigerator, fans, device-charging station, and kitchen appliances all run off of solar."
The composting toilet with exterior vents, and reclaimed, southern yellow pine tub/shower are housed in half-height built-ins near the back of the bus.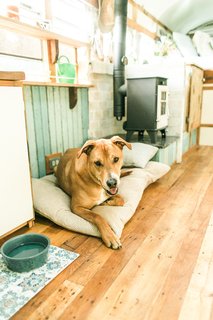 According to the Poiriers, the most challenging aspects of their DIY prison bus home project were the painting and insulation processes.
"It took us four solid weekends of tedious rust treatments, body work, sanding, feathering, cleaning, and taping," says Meag. "It was a true test of patience. The actual painting process only took four hours. We couldn't believe it! We're thankful we did the job ourselves in the end; it only cost us about $900."

Ben spent an entire summer meticulously insulating the bus from floor to ceiling. After conducting research, he sealed up all holes in the bus body and ceiling from the inside.
"This was an investment of time and energy, but we're reaping the benefits now," he says. "The ceiling has layers of hard foam XPS, reflectix bubble wrap insulation, and an air gap in between to help reduce conduction. It all works brilliantly to keep us comfortable in cold temperatures and on hot days. It was well worth the extra effort!"

"Challenging as this DIY kind of life is, the benefits outweigh the negatives, and the challenges only bring us growth, perspective, and appreciation for the littlest things," says Meag.

Project Credits:

Builder, interior, cabinetry, and lighting design: Meag and Ben Poirier / @wilddrivelife
Photography: @satisfaction_garrickteed; @wilddrivelife; @rachelhalseyphotograph

Do you have a Budget Breakdown to share? Find out how to submit to Dwell.