Corporate high-flyers and admitted neat freaks Bruce Thatcher and Kirsty Leighton couldn't handle the chaos anymore.
With two small boys and demanding jobs (he works in hedge funds, she's a PR executive), they craved order, light, and space but were prepared to settle for a washing machine. In came architect William Tozer with a plan that inserted clean white planes into the envelope of their Victorian terrace house in London. Christened the Composite House, this renovation collates Tozer's decade of experience making small partial renovations into a complete overhaul that builds on, rather than obliterates, its Victorian origins. As the sky darkened on a rainy afternoon, Bruce and Kirsty showed us around.
The Utility Room
Newsletter
Join the Daily Dose Mailing List
Get carefully curated content filled with inspiring homes from around the world, innovative new products, and the best in modern design
Bruce: This all started because Kirsty said she wanted a utility room. We liked the location…
Kirsty: …but the house had been made into flats and then made back, so there were rooms around all the windows and lots of internal walls. We spent all our time in the sitting room with our laundry and pushchairs and junk. We had a big house but we lived in a tiny house inside it.
Bruce: The original idea was to put a little basement in the front. I said, If we do that, we should probably think about putting in a playroom, too. Then I thought, If the kids are getting a playroom and Kirsty's getting a utility room, I'd like a wine cellar. We started by talking to the London Basement Company, but their proposal was dark and too expensive for not doing anything to change the way we used the rest of the house.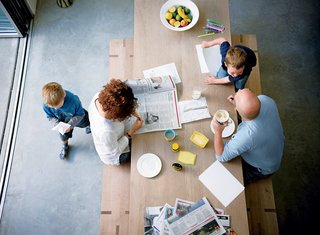 Kirsty: Back then we had no idea what was possible. We never thought we'd end up with our main living space in the basement.
Bruce: The utility room ended up being the least of it.
The Kitchen and Courtyard
Bruce: We contacted a young architect we'd seen on TV and William Tozer, who we found through the Royal Institute of British Architects' website. We gave them each £1,500 (about $2,500) and the brief and asked to see their ideas. We just said how many rooms we wanted and that we wanted to have footfall in 90 percent of the house every week. I didn't want any wasted space.
Kirsty: We found out that most people don't put a residential project out for pitches, but that's how Bruce and I do things in our jobs. We knew this was the bit we couldn't skimp on.
Bruce: William made a model out of polystyrene with little pins holding it together. He'd taken photos inside the model: the view from the front door, or from kitchen to garden. We could see exactly what he was describing.
Kirsty: The other guy didn't include a utility room.
Bruce: William's model had every-thing in the brief, but in a way we hadn't imagined. He put the kitchen underground and made this space above the table double-height. Now this is where we mostly end up. I can look down from the living room and watch the kids drawing or playing at the kitchen table, like a framed picture. I love that about the house—–you get so many different views, but everything is very square and clean. The stairs down to the kitchen and up to the garden are mirror images inside and out, and when you look in from the garden, it seems as though you can see all the way through the house. In summer, the sliding doors are always open so it's all one big space. I'm cooking and everyone else is flopped out in the courtyard.
Kirsty: A glass of wine, the stars, no wind—–it's perfect.


The Space Under the Stairs
Bruce: This was the only piece of wasted space to my mind, but William said it was important architecturally, and it's the children's favorite part of the house. They drag their duvets down there.
The Master Bedroom
Bruce: We even talked about what we wear in bed with William. We spent a year planning before we started.
Kirsty: The balcony wall is at boob height so that I can get out of bed without upsetting the neighbors.
Bruce: We agreed on everything—–save for a small tussle about curtains.
Kirsty: I wanted to make sure it felt comfortable. In the end, I softened it up by having one wall papered. My girlfriends love our bedroom.
Bruce: We've had a whole stream of people 'round for dinner to see the house. People come 'round at four, they bring their kids, and then they spend the night and stay for Sunday lunch. It's a sociable space, but it's so open you don't get claustrophobic. What's fun is that the house is still Victorian on the outside. You come in and see all this space and light.