A Lush Wallcovering Brings the Feeling of Nature Into This Tiny New York Apartment
A Manhattan pied-à-terre provides a homey retreat for Canadians who frequently visit New York.
When Vancouver residents Dale Steele and Dan Nguyen began looking for a pied-à-terre in New York, they were intent on finding a home away from home, not just an impersonal stand-in for a hotel room. "Even though it wouldn't be our primary residence, we really wanted to have a place that felt like us," says Dale, a physician. "When we saw places, we'd think, yes, we could live here, but it wouldn't be a home."

Newsletter
Join the Daily Dose Mailing List
Get carefully curated content filled with inspiring homes from around the world, innovative new products, and the best in modern design
That changed when Dan, a hair stylist who works with runway models during New York Fashion Week and other events, stumbled upon a sunny 585-square-foot studio with a small balcony in Chelsea. The space was tired, with a cramped kitchen and a sleeping area behind a three-quarter-height wall, but, says Dan, "I thought the light was beautiful and the apartment had a lot of potential."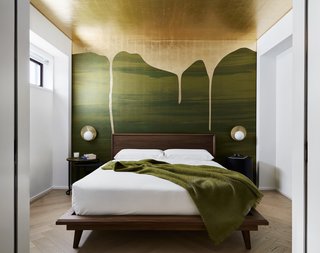 After purchasing it in the fall of 2016, the couple tapped Christopher Kitterman of Stadt Architecture for help with the renovation. They had seen Kitterman's own crisp, space-saving 450-square-foot apartment on dwell.com, and they told him they wanted something very similar. But Kitterman believed he could do even better. "My apartment is nice, but I was on a limited budget and had to value engineer things," he says. "With theirs, we were able to do more bells and whistles."

Shop the Look
Kitterman gutted the space to reconfigure it. Because both Dale and Dan love to cook, and were intent on taking advantage of nearby Chelsea Market, the architect opened and significantly expanded the kitchen, adding a large counter topped by Calacatta Gold marble and installing a terrazzo tile floor with marble pieces that match the counter's creamy tone. He designed millwork to conceal and contain heating and cooling equipment along the window wall. Where the three-quarter-height divider once stood, he put in a full-height wall with ethereal acid-etched glass pocket doors at the center, turning the apartment into a proper one-bedroom.

"The idea was like an enfilade—being in one space and seeing through to another space and another."
Dale Steele, resident
But the most personal, and dramatic, element is the bedroom feature wall and ceiling, where a custom green mural from Calico Wallpaper, inspired by a photo of Vancouver's lush Stanley Park, transitions to gold leaf overhead. "It's a play on the canopy bed, which historically often incorporated landscape references," says Kitterman. "It's something that envelops the room."
The intervention softens the experience of living in New York's concrete jungle just enough, says Dan, who had considered installing a living green wall before deciding maintenance would be too much for part-time residents. "We really wanted to bring in elements of the Northwest," he explains. "Now, it truly feels like home."