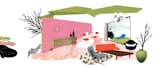 Calling All Homes For Sale!
We love to know when a modern gem has hit the market—and more importantly, we can't wait to share it with the community.
We want to hear from you. Do you know of a 'Dwell' home for sale? Whether it's an A-frame cabin in the mountains, a tiny loft in the city, or a prefab by the beach, we want to know about it.
If you're aware of a dwelling on the market that you'd like us to write about, add it to our new feature Add a Home. Homes uploaded through this template will appear on our main feed and will be considered for larger editorial coverage.
Get the Real Estate Newsletter
From midcentury classics to the best contemporary spaces for sale, see the latest listings for modern homes on the market around the world.