A Cool, Bauhaus-Style Hotel Revitalizes Two Historic Buildings in Kiev
A site-sensitive renovation transforms two historic buildings into a new hub for the creative community in Kiev, Ukraine.
Founded by 24-year-old Russian entrepreneur Vasily Grogol, BURSA is a new hotel that includes a non-commercial art gallery, 33 contemporary guest rooms, a ground-floor restaurant, and a top-floor bar that opens onto a rooftop terrace.
Located on 11 Konstiantynivska Street in Kiev, Ukraine, the 20,451-square-foot hotel complex was designed by local practice balbek bureau. The project renovated two historic buildings—one is 100 years old, and the other is about 200 years old—and connected them to a newly built, modern block to create this cool and dynamic space.
Newsletter
Join the Travel Mailing List
Get carefully curated content filled with inspiring homes from around the world, innovative new products, and the best in modern design
The balbek bureau team created a visual connection between old and new architectural styles to set the tone for the hotel's interiors. "The idea was to link two old buildings with a modern block, where appreciation of history and tradition will co-exist with modern art, design, and innovation," says balbek bureau's founder, Slava Balbek who worked with fellow architect Andrii Berezynskyi on the redesign.
The older of the two buildings was once a student boarding house for one of the oldest schools in Ukraine. It also served as the home and workplace of famous local architect Andrey Melensky at the turn of the 18th century.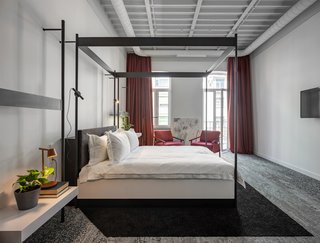 Because of the historic importance of the old buildings, Balbek and his team took great care with the restoration and repair work. "Based on historical references, decisions were made as to which architectural elements had to be retained, thus preserving as much of original fabric as possible. New additions to the building, while differentiated from the old, were still [in] keeping with the original structure's architectural features and scale," he adds.

The Bauhaus-themed interiors were deftly executed by balbek bureau interior designers Alexey Haro, Daria Ovechenko, Natalia Kurylenko, and Liubov Myronchuk. The hotel's rooms and common areas feature clean lines, simple forms, and monochromatic palettes with splashes of vibrant color.
Shop the Look
The bar on the top floor is named 1818—which is the construction date of the oldest building. In line with the Bauhaus theme, the design of the bar and roof terrace is functional and uncluttered. "We wanted nothing to detract from, or compete, with a colorful backdrop of diverse architectural forms surrounding the roof terrace," says Balbek.

"We wanted the frieze to be perceived as an integral part of the wall, rather than a later addition forced into the interior. The restaurant chairs, another example, are deliberately 'old school' and all original, found in Parisian and Norwegian antique shops and flea markets, then restored. They add character, and emphasize [the] authenticity and originality of the place," says Kurylenko.

Project Credits:

Architecture: Andrii Berezynskii and Slava Balbek of balbek bureau / @balbekbureau
Interior design: Daria Ovechenko, Natalia Kurylenko, Liubov Myronchuk and Alexey Haro of balbek bureau
Builder and Civil Engineer: Capital Construction Group
Structural Engineer: Yenhenii Poliakov of Capital Construction Group
Lighting Design: Daria Ovechenko / @daria_i_o
Book Now