Budget Breakdown: A SoCal Couple Revamp Their Fixer-Upper For $63K
Not afraid to get their hands dirty, a creative couple on a budget transformed their Mission Viejo bungalow into a chic abode for their growing family.
By the time lifestyle blogger Janelle Burnett and her husband George were ready to remodel their 2,000-square-foot bungalow in Mission Viejo, California, she was already two months pregnant.
$28,749
Labor
$3,119
Tiles
$6,750
Kitchen Cabinets
$2,100
Lighting & Ceiling Fans
$6,100
Countertops
$6,000
Electrical
$10,182
Furniture & Appliances




Grand Total: $63,000
Undaunted, she rolled up her sleeves and—with lots of help from Google and YouTube—dove headfirst into a gut renovation that finished just in time for the couple to welcome their daughter, Sienna.
Newsletter
Join the Renovations Mailing List
Get carefully curated content filled with inspiring homes from around the world, innovative new products, and the best in modern design
Despite not having any previous experience, the couple transformed their home on a budget of just $63,000. From the entrance foyer and living room to the four bedrooms, the dynamic duo breathed new character into the dated home that was refreshed with modern and boho influences.
"We were really tight on cash, so we did a lot of the renovations on our own," says Janelle, who created the Burnett Bungalow Instagram to document her home's ever-evolving interior design. "Our house is a labor of love, and we have poured our hearts into it and are so proud of what we have accomplished."
"My favorite room in the house is the kitchen for two reasons," notes Janelle. "One, we are a family that loves to eat and host and when we do so everyone gravitates towards the kitchen. Second, we did the most work on the kitchen, and it is a huge labor of love. Let's be real though—I also just love to eat!"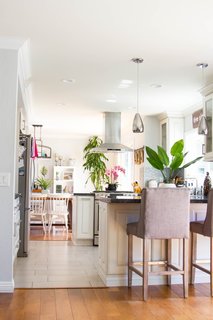 Having lived in their bungalow for nearly three years now, Janelle and George have grown their family to include Sienna (2 years old), Carson (4 months old) and their fur babies Lola and Marilyn.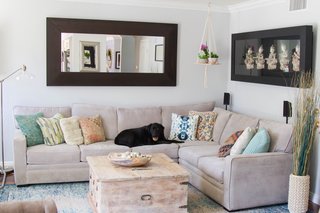 Most of the furnishings were purchased from Living Spaces, while the couple turned to Lamps Plus for the pendant lights and ceiling fans, and Home Goods for small accessories.
"My style is evolving, as am I, and each room is a reflection of myself in some way," notes Janelle. "I love to add texture and patterns to every space…and mixing old family heirlooms in with new pieces because I feel like those treasures bring character to a home."