View Photos
Master the Lean Closet Movement With These Everyday Staple Brands
While you're in the midst of spring cleaning, consider slimming down your closet and focusing on everyday staples.
There's so much we do around the house to make our lives simpler— we even spend an entire season cleaning and organizing to make the rest of the year easier. But for some reason, many of us hate putting that same philosophy to our closets, opting instead to hoard outfits we keep telling ourselves we'll wear "one day," and making simple tasks like picking out what to wear to work that much harder. Remember, the more time it takes for you to sift through your jam-packed closet to pick your outfit of the day, the less time you have to, you know, sleep in.
Newsletter
Join the Daily Dose Newsletter
Get carefully curated content filled with inspiring homes from around the world, innovative new products, and the best in modern design
Fortunately, there's a solution—think of the lean closet movement as Marie Kondo-ing your wardrobe. You'll keep the the pieces you absolutely love, and build an arsenal of quality clean, crisp basics that will never go out of style. You'll get more bang for your buck by investing only in everyday pieces you'll get solid use out of—and since these are typically premium items, they'll last you far beyond just one season.
A number of brands specialize in lean closet staples, designing durable leather totes, layering tees, and classic footwear that you'll want to live in day after day. Ahead, we've rounded up a few standout labels that make decluttering your wardrobe totally doable.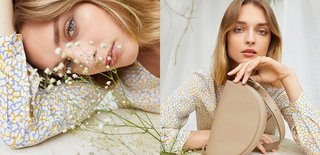 One of the early pioneers of the lean closet movement, Cuyana has long challenged its shoppers to buy fewer, better quality items. Its offerings, which are all considered classic silhouettes, include variations of the LBD in all types of materials and shapes (silk slip dresses, linen maxis, velvet open-backed numbers), as well as lounging joggers, everyday crewneck tees, and lightweight moto jackets.
From grade-A cashmere sweaters to roomy weekender bags and Japanese denim jeans, everything Everlane produces is made to last. The company's pieces are also ethically made, transparently priced, and eminently wearable—you'll be surprised just how often you end up sporting the brand in your daily outfits.
Nowadays, we can (and do) get away with wearing sneakers for pretty much every occasion. So having a pair at arm's reach when you're getting ready for the day is essential. Good thing for you, Brooklyn–based sneaker company Greats sells premium luxury-esque footwear that costs far less than any designer label. Bonus: They're also available at Nordstrom if you have a shopping cart full of everyday essentials in the works.
Men can, and should, get on board with the lean closet movement—especially considering how often they have staples in rotation. Like Cuyana is for womenswear, Buck Mason is all about creating effortless, iconic American menswear such as crewneck sweaters and tees, polo shirts, oxfords, and slim-fit jeans with designer execution. Plus, most of our favorite items are less than $100 —and many are even under $50!
Chances are, you're going to need athletic wear in your closet for hitting the gym (or the couch) in complete comfort. When you're stocking up on workout essentials, consider Outdoor Voices. This Internet-famous brand meshes comfort, performance technology, and standout style in its line of yoga pants, hoodies, running shorts, and sports bras.