View Photos
6 Best-Performing Kitchen Appliance Packages For Every Budget
Whatever budget you're working with for your kitchen renovation, here are the best appliance suites that combine style and performance.
Whether you're building a new kitchen or giving it the upgrade it deserves, these kitchen appliance packages give you the most bang for your buck. We've considered looks, materials, craftsmanship, performance, and smart features in these suites, ranging from $2,200 to $13,000.
Affordable Kitchen Appliance Packages
Budget: Less than $2,500
Newsletter
Join the Kitchen Newsletter
Get carefully curated content filled with inspiring homes from around the world, innovative new products, and the best in modern design
This may come as a surprise, but as Consumer Reports has reported, price tags don't always correlate with quality when it comes to kitchen appliances. In fact, their tests have shown that some of the best performing standard kitchen ranges are within the $1,000 range. Though you might find fewer finish options to choose from, your budget doesn't necessarily mean compromising on performance.
When looking for ways to save money on appliances, be sure to research energy efficiency and warranty policies—it'll help save money on electricity bills and repair costs in the long run.
Shop Affordable Kitchen Appliance Packages
Package Total: $2,237.94

Mid-Level Kitchen Appliance Packages
Budget: Less than $7,000
The options available in at a mid-range price point often include trendy finishes and more functional features. With more freedom in your budget, you'll be able to pick appliances that complement your kitchen's overall design aesthetic and incorporate the newest technologies, like the Nest Thermostat integration in the 30" Whirlpool range featured below.
Shop Mid-Level Kitchen Appliance Packages
Package Total: $6,952.20

Luxury Kitchen Appliance Packages
Budget: Less than $13,000
With a higher budget, you can design a kitchen fit for a chef with professional-grade performance, fine craftsmanship, and smart, functional features. The Dacor modernist collection, pictured above, features a streamlined aesthetic and convenient, self-automated cooking options.
Shop Luxury Kitchen Appliance Packages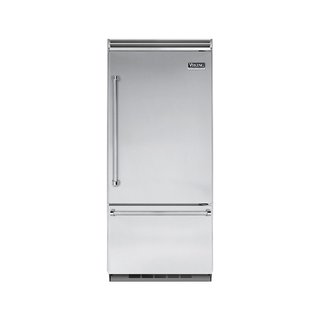 Package Total: $12,993.00