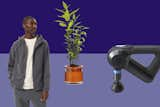 Father's Day Gifts That Are Perfect for Even the Hardest to Shop for Dads
We're here to help you pick out the perfect gift for all the father figures in your life for Sunday, June 19.
The traditional Father's Day gifts are, by now, terrifically cliché, as is the general concept that dads as a group are difficult to shop for. Shoehorning fathers into a group that only wants power tools and grilling accessories, doesn't take into consideration the full breadth of interests that your particular father might have. While (almost) everyone can appreciate the kitsch appeal of a "Kiss the Chef" apron or golf club covers that resemble an Australian shepherd, please know that there are better options that are just as fun. Consider some of these thoughtful and unexpected gifts, meant to please even the most persnickety of papas.


For the Techie
For the One Who Could Use Some Replacement Slippers
For the One Who Appreciates Japanese Design and the Perfect Slice of Toast
For the Snazzy Snoozer
For the Dad Looking to Expand His Culinary Skills
For the One Who's Always Losing His Keys
For the Neatnik
For One Who Loves to Learn
For the One With a Not-So-Green Thumb
For the Dad Who Could Desperately Use a Spa Day
For the Practical Picnicker
For the One Who Deserves Something Especially Nice This Year
For the Coffee Aficionado
For the New Parent
For the One Who Enjoys a Good Mocktail
For the Indoor Athlete
For the DIYer
For the One Who Loves Family Game Night
For the One With a Good Sense of Humor (and Love of Cured Meats)
Get the Shop Newsletter
Smart shopping for the design obsessed. Find what you love in our expertly curated selection of finely crafted home, office, travel, and lifestyle products.