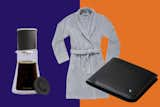 Father's Day Gifts He'll Love for Less Than $100
From a tortilla press to a good, sharp knife, here are some gifts the dad in your life won't just buy for himself (probably).
There's a good chance the father figure in your life has everything he thinks he needs and wants, but that shouldn't stop you from expanding his horizons. Maybe this is the year your dad gets into The Artist's Way, or really learns the nuances of coffee. Maybe he wants a fanny pack from a company that seems to advertise solely on TikTok. Everybody's changing all the time! Who knows what the rest of this year will bring, but maybe these gifts will push them in new, exciting directions.
A brand spanking new wallet
Encourage introspection with a journal
Finally get rid of those pint glasses in favor of something more elegant
A little tipple for his new glassware
Sure, the Mr. Coffee works great, but this probably works a little better
Let him embrace his inner coffee snob
A belt isn't boring if it's of this high quality
Make his cheese and crackers midnight snack a little fancier
Here's some coffee with a purpose beyond just waking up
Now he'll never lose his keys again
What's not to love about fancy olive oil?
Now he can listen to Steely Dan wherever he wants
This is for the bathroom—a gift to everyone, really
Hang this next to the Father's Day card you made when you were in kindergarten
For the dedicated fanny pack dad
If making coffee is too much, then this does the trick in half the time
One for you, one for dad
Throw a little snake plant in here, and you're good to go
Only the best for a decent man
For his constitutionals around the backyard
Tidy up that stack of novels on the bedside table
Introduce your father to the wonders of merino, in t-shirt form
Give the gift of a brief moment of zen
For the skincare daddies
An outdoor lamp to replace the camping lantern he refuses to get rid of
Taco time!
A suitable upgrade from the Daytona 500 apron that's covered in barbecue sauce
Everyone needs one good knife
There's no reason a toolbox shouldn't be well-designed and elegant
For sake bombs (just kidding) or other spirits of your choice
A gentle scent that's not overpowering
Replace that tired Patagonia fleece with something that's a little more refined
Everyone loves pillowcases, but linen is the way to go
Okay, fine, if you're going to get barbecue tools, make sure it's this set
For puttering around in the yard, tending to the hedges
Just a really beautiful pen
Make the pinot noir taste just a little bit better
Robes are universally loved by dads, and this one will be no exception
If he read (and enjoyed) Barbarian Days, this is a nice followup
Up his reading-glasses game with some new frames
Make sure his handwritten bursts of genius make it to the cloud
Get the Shop Newsletter
Smart shopping for the design obsessed. Find what you love in our expertly curated selection of finely crafted home, office, travel, and lifestyle products.