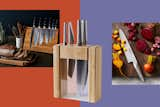 10 Chef-Approved Knife Sets That Are a Cut Above the Rest
Ask any chef—well-weighted, sturdy knives are a game changer in the kitchen.
Preparing a savory meal begins not only with mouthwateringly fresh ingredients, but also with workhorse cutlery that renders chopping, slicing, and dicing effortless. Put those worn-out, dull blades on the chopping block and let these cutting-edge knife sets make you the Gordon Ramsay or Ina Garten of your own culinary domain.
Fill up on the Latest in Kitchen Design
Discover inspired kitchens and get design advice for the heart of your home.