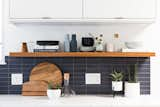 6 Affordable Tile Options to Amp Up Your Kitchen Renovation
Rock your kitchen renovation with these on-trend and on-budget tile options.
Don't settle for boring tile—whether you're installing a backsplash or re-doing your floor, these glossy, hexagonal, and stick-on tiles will add a pop of texture and color to your kitchen. And best of all, they're as easy on the wallet as they are on the eyes.
Get the Renovations Newsletter
From warehouse conversions to rehabbed midcentury gems, to expert advice and budget breakdowns, the renovation newsletter serves up the inspiration you need to tackle your next project.