Bathroom Design Idea: Copper Color Scheme
Recommended by
Penny tile imbues a San Francisco bathroom with a sophisticated, spa-like feel.
When they were hired to renovate a Victorian in San Francisco's Noe Valley, designers Lauren Geremia and Emily Ord first looked at the existing materials. Presented with a concrete floor in the bathroom, they sought ways to introduce warmth and softness to the space. "I love the aging quality of copper and how it patinas in an interesting way," Geremia says. They discovered metal penny tile in the Antique Copper finish from Design and Direct Source of Portland, Oregon, and used it to clad the walls from floor to ceiling. Around the tub, Geremia and Ord opted for linear-format tiles in the same finish. By keeping large swaths of the surface monochromatic, they created a graphic effect that wouldn't overwhelm the small space, Geremia says. Anticipating that the copper would dull over time, the designers opted for contrasting chrome fixtures from Hansgrohe, a brand they selected for its modern aesthetics and reliability. A custom linen shower curtain and copper rod by Rachael Brune are the finishing touches. "It's about striking a balance between warm and cool materials and warm and cool colors," Geremia says.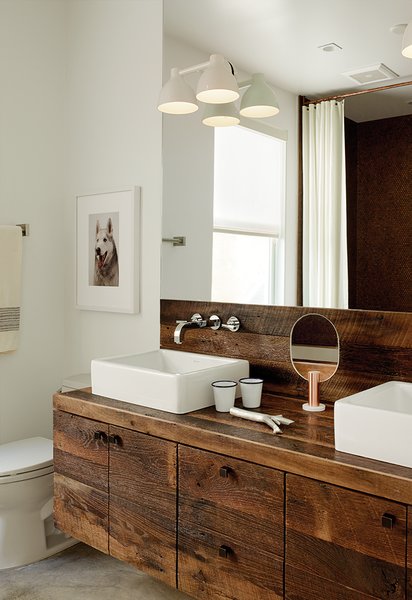 Details
Project: 25th Street Residence
Diana Budds
@dianabudds
A New York-based writer, Diana studied art history and environmental policy at UC Davis. Before rising to Senior Editor at Dwell—where she helped craft product coverage, features, and more—Diana worked in the Architecture and Design departments at MoMA and the San Francisco Museum of Modern Art. She counts finishing a 5K as one of her greatest accomplishments, gets excited about any travel involving trains, and her favorite magazine section is Rewind. Learn more about Diana at: http://dianabudds.com
Comments
Everybody loves feedback. Be the first to add a comment.
The author will be notified whenever new comments are added.