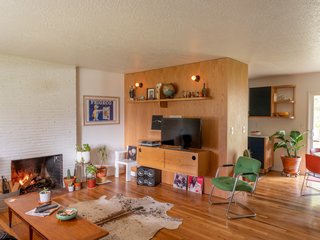 View 11

Photos
Budget Breakdown: A Portland Designer Jazzes Up His '50s Kitchen for Less Than $26K
Using humble materials like plywood and laminate in a smart way, Ben Ediger of design-build studio Spacecraft gives his tired kitchen a much-needed update.
When Ben Ediger and Emily Wyant bought their 1959 rambler in Portland, Oregon, in 2016, the kitchen had no appliances, two layers of linoleum on the floor, and plywood cabinets hidden under years of paint, complete with sticky doors and drawers that wouldn't close.

Over the next few years, the creative couple—he's the co-founder of Spacecraft, a design-build studio for interiors and furniture, and she's an event designer and artist—embarked on a remodel of the 81-square-foot space. The approach? To use inexpensive materials in a way that's durable, useful, and aesthetically pleasing.
$4,000
Appliances
$200
Garage Door
$770
Lighting Fixtures
$270
Knobs & Pulls
$150
Painting Supplies
$300
Tile
$1,600
Countertops
$380
Sink & Faucet
$1,100
Tile Installation
$800
Drywall
$200
Electrical & Plumbing
$16,000
Cabinetry, Wood Wall, Design, Project Management
Grand Total: $25,770
"I've always been more interested in the challenge of working with materials that aren't special," says Ben. "And also, the challenge of sometimes using something that's considered to be off-color, or not of good taste, and figuring out a way to make it work."
Ben took on much of the labor, with the bulk of the budget focused on a wood-wrapped feature wall and custom cabinetry, all designed and built by him. The rest of the scheme was filled out by vintage and off-the-shelf finds. These included seconds floor tile from local tile maker Pratt & Larson, lighting and hardware from Schoolhouse Electric, and solid surface counters sourced at Home Depot.

Having wrapped a job that involved a modern plywood interior, Ben decided to experiment further in his own home and play with the idea of midcentury wood paneling. To do so, he wrapped the party wall between the kitchen and living room with white oak plywood, sequenced to match up the grain. On the living room side, he designed a floating media console and shelves. On the kitchen side, the wood knits the two rooms together and brings warmth to the scheme.
Ben cites inspiration in Jasper Morrison's and Naoto Fukasawa's concept of the Super Normal, which cautions against over-designing. "An object becomes Super Normal through use," says Morrison in a 2006 interview with Domus. "As designers we can aim at achieving the Super Normal by being less concerned with visual aspects of an object's character, by attempting to anticipate the object's likely impact on the atmosphere and how it will be to live with."
Ben decided on cabinets with black laminate fronts after observing how he and Emily cook. "Originally, I thought about white oak fronts for everything," he says. "But it became clear that having something that was durable that I could wipe down, and that would take a splattering here and there, was important." He opted for black Formica with a crystal finish, as its luster doesn't show fingerprints or stain, which he learned after applying the material to the dining tabletop first.
Since the kitchen project wrapped in 2019, Ben has set a new goal: a high-quality, modern remodel of the home's single bathroom using only products available at Home Depot. "It's that general idea of constraint as the driving force for creativity," he says.