With a novel use for an ultra-lightweight material, two academics build their ideal home—then ship it overseas for assembly.
On a quiet, tree-lined street in Brookline, Massachusetts, a rectangular pale gray structure sits amid a row of wood-frame houses, many of them dating to the late 19th century. The boxy two-story dwelling is set back from the suburban block, its facade almost entirely opaque, save for a 40-foot-long expanse of glass that faces the street. Despite its stark modernity, the structure does not shock; its scale and colors are subdued. But the journey of the home's conception and design—prefabricated in Madrid, Spain, sent overseas via shipping containers, and assembled on-site in just nine days—is wholly radical.
Newsletter
Join the Daily Dose Mailing List
Get carefully curated content filled with inspiring homes from around the world, innovative new products, and the best in modern design
Called the Cyclopean House, it's at once a home and a portfolio piece for Anton Garcia-Abril, a professor at the School of Architecture and Planning at Massachusetts Institute of Technology, in Cambridge, and his wife, Débora Mesa Molina, a research scientist, also at MIT.
Both registered architects in Europe, they are the principals of Ensamble Studio, an architecture practice with offices in Madrid and Brookline. They are also codirectors of POPLab (Prototypes of Prefabrication Laboratory), a research lab at MIT, and they are builders. Completed in 2015, the home is "the first son of the lab," says Anton.
Among Ensamble's goals is to bring ultra-light, strong, reasonably priced, well-designed prefabricated housing that offers generous space and great light to a mass housing market, working with developers and sponsors to counter popular misconceptions that plague both categories.
Mention the topic of prefab, and "people think of trailer houses, social housing, boring repetition," Anton says. "We want to combine the American efficiency of a framed structure—putting studs close together to create a well-distributed wall—with the European idea of solidity."
"In Spain," offers Débora, "homes are traditionally built with bricks, stone, and concrete," unlike in the United States, where homes are often built with wood framing, which can deteriorate. "Wood requires maintenance and painting," she notes. "It cracks. It moves."
When the couple were hired by MIT in 2012, they bought a 30-by-40-foot cement-block garage for $320,000 from a former construction company, had it rezoned for residential use, renovated it into a three-bedroom home for $100,000, and then moved in with their four children the following year. With plans to eventually build a prefab addition, the couple honed their observations into a central inquiry: How could they make a fairly priced and lightweight yet solid house that was neither wood-framed nor made of bricks, stone, or concrete? Since 2011, the couple had been experimenting with lightweight construction technologies, partly in response to the tsunami and earthquake that had damaged 1.2 million homes in Japan's Tōhoku region that March. The answer, they found, was to use EPS, short for expanded polystyrene foam—a common and extremely lightweight material whose composition is 98 percent air.
Devising a modular design made from a panel system, they created I-beam-shaped panels with a foam core, which they reinforced with bands of cold-formed steel. To make each module weatherproof, rigid, and fire-protected, the team then clad them in cement fiberboard, a composite made of 95 percent cement and 5 percent sand and cellulose fibers. The architects prefabricated the panels in Madrid, purchasing materials locally to build the parts in their workshop, and collaborated with building engineer Javier Cuesta—"our master builder," says Débora—and others at Ensamble Studio to make the panels by mechanically screwing the parts together. "It was more work than if they had been welded together, but when you weld, you break the galvanized steel, you burn it," Anton explains.
Creating eight wall panels, nine roof slabs, and ten trusses in all, they embedded windows into the frame, specifying acrylic because it's "cheaper, lighter, and more resistant to flexible construction," he added. Sized to fit neatly within standard shipping containers—which measure 40 feet long by 8 feet wide by 8.5 feet tall—the modules were then transported to Brookline, where they were assembled on-site in just nine days and built out in the following four months.
Affixing the new prefab addition to the top of the former garage, which rests on a four-foot deep foundation, the architects placed 30 steel studs, each four feet apart, around the perimeter of the structure. Nine studs are placed along the long sides, and six along the short sides. The panels were prefabricated with vertical holes four feet apart, so that they slide onto the 30 studs to fix the new structure to the concrete block walls.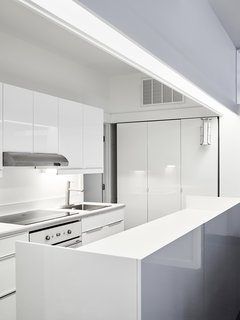 Since the couple had never built in the United States before, they wanted to work with a local contractor, but discovered that many "don't want to do novel construction," according to Anton. "If we had done it as standard wood-frame construction, it probably would have cost a thousand dollars a square foot. Instead, we did it ourselves at four hundred a square foot." The new house weighs less than 20 tons and is 30 percent lighter than standard wood-frame construction.
Proving that a prefab house could successfully be made in Spain and shipped worldwide, the Cyclopean House is a case study in speed and efficiency. But for now, it's a private space for the family, a playground for the children, and a home office for the couple, with plenty of room to host a gathering of more than 40 people. It's 1,200 square feet of dramatic, open space—and the perfect place for Anton and Débora to begin cooking up their next personal lab project: a house in the Far Rockaway neighborhood of New York, a challenging waterfront site that's sure to conjure another riddle in need of a design.