"It was a series of odd coincidences that led us to this house," says Mark Aink, as he sips an espresso in his family's home in Monnickendam, a small town 20 minutes from Amsterdam. "The newspaper ad wrongly listed it as being in the city," he continues, perching on an Eames chair, while pet Rhodesian Ridgeback Boby sniffs contentedly around his feet. "We didn't want to move outside Amsterdam, but it was a roomy house, so we thought it was worth a look. But I lost the ad and ended up viewing the wrong place—number 13, instead of number 18, which happened to have just gone on the market, too."
Although 13 Noordeinde was then, according to Aink, "a crappy office conversion, with a low ceiling and a dark apartment upstairs," the designer and his partner, lawyer Nynke Meeuwissen, saw potential in the spacious, distinctive building. The nearly 6,000-square-foot house began its life as a school in the 1840s, and the ground floor was originally a gym. Much of its beautiful herringbone parquet floor survived intact, complete with the brackets once used to hold the gym equipment in place. Toward the rear of the building were hefty horizontal ceiling beams, and, below the building, accessed only through the garden, was an older, arched cellar, dating from 1712. But these were the only signs of the building's former lives. "There were no other original details left," says Aink. "Renovations had ruined the space, so the only solution was to tear everything out."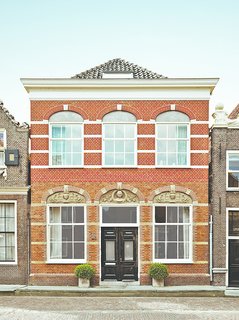 Architect Xander Vervoort, of X+L Studio, who, together with partner Leon van Boxtel, remodeled the interior, agrees. "The space told us what to do," he says simply. So, while Aink, Meeuwissen, and their three children moved in upstairs, Vervoort and Van Boxtel began stripping the ground floor back to its beautiful bones. The ceiling, which had been renovated to less than ten feet tall, was restored to its original lofty height of 14 feet, nine inches.
But as the huge space evolved, the architects became aware of their clients' rather contradictory desires. "Our brief was to restore the original qualities of the space," explains Vervoort. "But we quickly realized that, while Mark was impressed by the big space, Nynke was a bit scared of it. We could see that she was looking for comfort, whereas he was happy to live in a vast, museum-like space—they're opposites in that way."
"It did take me a while to get used to the space, but I left the ground floor to Mark and the architects," confesses Meeuwissen. "It was a lesson in letting go!"
Meeuwissen suggested one key element of the design: adding color to the otherwise all-white living space. Shades of ochre create a sense of warmth and break the endless expanse of wall into manageable zones. The palette also sets off materials added by the architects to vary and humanize the space, including a poured concrete floor (replacing the missing parquet around the entrance and kitchen); a teak, porch-like new entranceway; and a travertine surround for the open kitchen.
In the middle of the ground-floor space, between the kitchen and dining areas and the living room, wooden stairs to the upper stories form a core that incorporates more intimate spaces, such as a little crow's nest office-cum–DJ booth on the landing and a narrow space with angled shelves behind the stairwell. The stairs lead to the second floor, with its cluster of kids' spaces—three bedrooms with sleeping platforms reached via ladder, a bathroom, and a shared hall space—and the master bedroom and bathroom. The stairway continues to the third floor, leading to a guest room and views of sailing ships on the waters of the Gouwzee.
The upper floors were completed several years after the ground floor. "The kids were much older by then," says Meeuwissen, "and I had more input into the interior. For example, the first idea for our bathroom was just to have a bath in the middle of an open space—nice if there are two of you but not when you're living with teens." At her request, a new, more private scheme was devised, based on the traditional outdoor Balinese bathroom. "We placed a skylight in the ceiling, so that lots of light enters from above," says Vervoort. A wall of natural-stone tiles, from Intercodam Tegels, makes the most of the resulting verticality and daylight.
Throughout the house, and encouraged by Meeuwissen's desire for domestic comforts, the two architects have created some quirky custom detailing that lends personality to the large spaces, including handcrafted lamps made from cotton thread, wood veneer, and bamboo; a silk-covered wall behind the master bed; and an abstract mobile made of painted balsa wood. "We always work in this very intensive way, perhaps because Leon and I are partners in life, too," explains Vervoort. "Once the big lines are done, we like to help people go further with the interiors."
The detailing fulfills Aink's ambition for the house "to be really authentic, with its own modern, timeless style." And thanks to the architects' interventions, the cavernous space is plenty intimate, even by Meeuwissen's standards. As Aink puts it, "It's a vast volume, but it feels like a warm jumper."