A Sliced-Up House Comes Together Again
This bisected 17th-century house in the Swiss Alps transforms into a 970-square-foot home for a British designer and his family.
When British architectural designer Jonathan Tuckey was hired for a project in Andermatt, Switzerland, he didn't expect he'd end up moving his family from the hurly-burly of London to a serene Alpine village surrounded by nature's marvels. Such a bold change of pace—he commuted four days a week from Andermatt to London to run his design studio—reflects the joy in contrasts that informs and energizes his award-winning designs.
Newsletter
Join the Daily Dose Mailing List
Get carefully curated content filled with inspiring homes from around the world, innovative new products, and the best in modern design
Applying the term "fixer" to Tuckey is an understatement, given his reputation for poetic approaches to structures. In cases of derelict buildings, whose most recent inhabitants may have been pigeons, he says, "I see our job as being mediator between the client's aspirations and the building's aspirations." 
So when he and his wife, Annabel, found an appealing stone-and-timber house dating back more than three centuries in the historic center of the village, they were prepared to honor its simple architectural style. Nicknamed Halbhaus, or "Half House" (the other half was demolished to create a parking lot decades earlier), the three-story structure was 969 square feet. Like other houses of the era, its ceilings were low, its rooms were dark, and corridors were nonexistent. The challenge was to give it generosity of height and light while preserving its 17th-century character.
Among Tuckey's credos is that every project must include rooms of contrasting proportions. "Curling up on a winter's night, or a night when you're feeling gloomy or don't want to see the outside world, that happens in a small space. A party, a wedding feast, or an optimistic day happens in a big space. Houses need those scale shifts to accommodate our moods and our day-to-day rhythms."
A snug space already existed in the form of a stübli, a dark, traditional Alpine room, warmed by a fireplace. "They tend to be rooms that drop off the radar in modern houses because everybody likes everything to be light, bright, and airy," Tuckey notes. In his own home, which he and Annabel share with their two daughters, he preserved the larch shingle paneling, along with numerous artifacts that belonged to the previous owners. An artfully placed mirror on the ceiling gives one corner a sense of infinite height, an homage to the legendary British architect Sir John Soane. 
While playing with proportion is a timeless architectural strategy, Tuckey acknowledges the difficulty of making room for a big space in a small project. Here, raising the roof wasn't an option—due to Halbhouse's location in the old village—but the sloped attic offered a solution. Tuckey swapped floors, relocating the bedrooms to the first floor and moving the living, dining, and kitchen areas up to the second. Knocking out part of the attic allowed for a bright, lofty dayroom with a ceiling that reaches 14 feet. "In some houses in London, 14 feet is very ordinary," he says, but once you come in through the six-and-a-half-foot bathroom and the two small bedrooms on the first floor, then up through the stübli on the second, "your expectations are that everything will be that size, and you're quite surprised it opens up." 
The house was conceived as a series of communal spaces, like neighboring properties, rather than a set of well-defined rooms. Adding hallways would have squandered a precious commodity. ("Modern plans can use 15 to 20 percent of the space on corridors," Tuckey notes.) Plus, the couple liked the charm and ambiguity of the rooms—part sleeping space, part passageway. Tuckey, who has thought deeply about "how privacy is potentially an overrated condition of the modern world," decided to commit to a public feel throughout. "Other houses are flat-bang against this house," he says. "You can open windows and almost reach into another house. We didn't want to lose that quality. In fact, we almost wanted to play it up." Beds or daybeds furnish nearly every room, and the house can sleep 12 people nearly as comfortably as it can this family of four. Ladderlike staircases reinforce the open feel, while thick curtains inside offer the option of privacy and warmth. "This approach is very much in keeping with the informal way in which such a house would have been occupied 300 years ago." 
Throughout the project, the designer looked for ways to express the layers of change that have taken place at Halbhaus. The old proportions of the rooms are legible within the retained wall linings. Anything new and pared down, he and his wife brought to the house; anything old, they bought from the family of the previous owners, a couple who died in their 90s. "Clocks are still chiming in the places they were," Tuckey says. Textiles include Swiss felts, Alpine ginghams, and blankets from Wales. Treasures from the family's daily walks—dried flowers, sketches, crystals, and heart-shaped rocks—abound on the mantelpiece.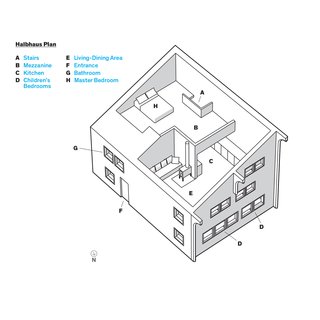 "My favorite spot is the living room when I get up early and it's dark," Tuckey says. "When the sun hits, the snow gets an extraordinary blue light." Although the family has since moved back to London, they still spend months at their Alpine escape. Taking stock of the design, Tuckey notes, "It's the contrasts of scale and light that make the house." Considering the two cities he calls home, such contrasts also seem to make the life.