A Platform for Living
Recommended by
Setsumasa and Mami Kobayashi's weekend retreat, two and a half hours northwest of Tokyo, is "an arresting concept," photographer Dean Kaufman says, who documented the singular refuge in the Chichibu mountain range. "It's finely balanced between rustic camping and feeling like the Farnsworth House."
Designed by Shin Ohori of General Design Co., the structure—Setsumasa bristles at the word "house," since his desire was for something that "was not a residence"—and its wooded surroundings serve as a testing ground for the Kobayashis, who design outdoor clothing and gear (as well as many other products) for their company, .......Research. The shelter is constructed from locally harvested larch wood and removable fiberplastic walls and is crowned with two yellow dome tents used as year-round bedrooms.

Still, this is no primitive lean-to. There's electricity, hot water, and a kitchen—not to mention iPads, Internet, and a clawfoot tub. By day, the couple trims trees and chops firewood. At night, they sit around a campfire and eat Japanese curry, listen to Phish, and balance their laptops on their knees. This is what a modern back-to-the-land effort looks like.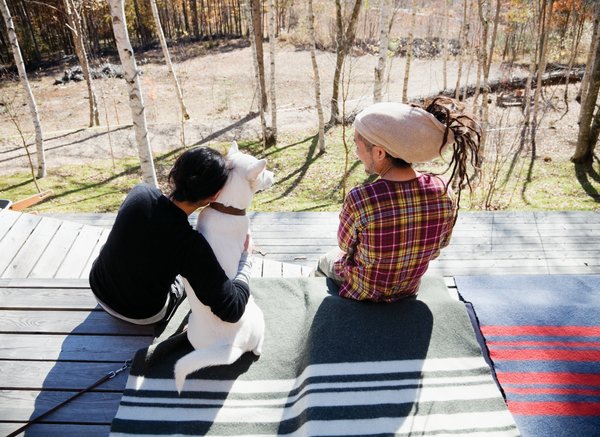 Details
Project: Kobayashi Residence
Jaime Gillin
@jaimegillin
When not writing, editing, or combing design magazines and blogs for inspiration, Jaime Gillin is experimenting with new recipes, traveling as much as possible, and tackling minor home-improvement projects that inevitably turn out to be more complex than anticipated.
Everybody loves feedback. Be the first to add a comment.
The author will be notified whenever new comments are added.