A Danish Design Kingpin Moves to NYC with a Shipping Container of Furniture in Tow
A purveyor of contemporary Nordic design expands his brand's presence stateside—beginning with his new Manhattan apartment.
"My father-in-law always says that you can make any place look good with a coat of white paint and good art," says Jasmi Bonnén. She and her husband, Peter, took that advice to heart when they furnished their Tribeca loft, which they moved into in January. The couple and their two sons, 7 and 11, migrated to New York City from Copenhagen so that Peter could bring Muuto, the furniture company he cofounded with Kristian Byrge in 2006, to a wider audience. When the company was started 10 years ago, Scandinavian brands and consumers cared only about classics by storied names from the past like Arne Jacobsen and Hans Wegner. "No one wanted to manufacture new things," Peter says. The partners felt it was time to move the conversation forward and celebrate what they labeled the New Nordic, employing rising stars from Denmark, Sweden, Norway, and Finland to produce fresh work. "We felt our generation could put Scandinavian design back on the map," says Peter. He and Byrge have more than succeeded: Today, Muuto has 1,300 distributors in 52 countries. But they wanted to expand even more and saw their greatest opportunity for growth in North America.
Newsletter
Join the Daily Dose Mailing List
Get carefully curated content filled with inspiring homes from around the world, innovative new products, and the best in modern design
"It made sense to be in the city," Peter remarks of Manhattan. "We saw the potential to be closer to our customers as well as to architects and designers. Besides," he adds, "I've always wanted to live in New York." Peter and Jasmi's primary concern was finding a good school for their children. After scouting the city, in neighborhoods from Park Slope to SoHo, they decided that Tribeca best met their family's needs. Only then did they proceed with apartment hunting, looking at dozens of places before settling on a two-story, three-bedroom condominium in a recent conversion of a row of old textile factories.

The loft has an unusual layout. The entrance from the elevator opens into a room that functions both as Peter's home office and as a gathering area centered on the apartment's fireplace. The kitchen, a long galley off a hallway, connects to another living space that also serves as a workspace for Jasmi, who recently founded her own cosmetics company, Nuori. Upstairs, a hallway feeds into three bedrooms. Inviting terraces—two on the first floor and one on the second—provide outdoor space for gardening and enjoying the views.
"We felt our generation could put Scandinavian design back on the map." —Peter Bonnén, resident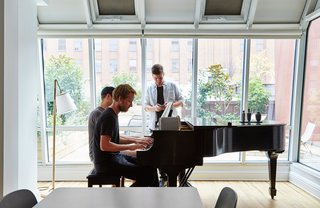 Art is especially important to the Bonnéns. Peter's father is a sculptor— one of his pieces hangs near the dining table—and his brother is a painter. An oil painting by his great-grandfather is mounted over the fireplace.

Owning a furniture company has certain undeniable advantages when it comes to decorating a home. Examining their new floor plan, the couple plotted out what pieces would be needed and packed a container laden with their favorite Muuto designs. The only major piece they purchased was a grand piano for Peter, who is a musician. (His guitar can usually be found at the ready by the fireplace.) Otherwise, says Peter, "We did nothing, just painted everything white," heeding his father's advice.
The couple were initially unhappy with some of the building's detailing, and Peter had ambitious plans for making changes, such as replacing baseboards and trim that seemed too fussy and reconfiguring the entrances to all of the outdoor rooms. But in the end, they decided not to do much more than add coats of Benjamin Moore. That's how they solved the problem of the drab brown cabinets and the garish backsplash that awaited them in the kitchen, which now looks pristine.
Instead of fixating on the minutiae, the Bonnéns enjoy all the outdoor spaces the new apartment has to offer, a precious luxury in Manhattan. They're already growing tomatoes on one terrace and herbs, cucumbers, and arugula on another, in containers that Peter built. "It's the only furniture I've ever made myself," he admits.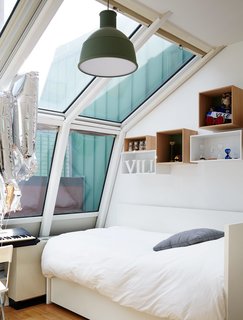 "Good furniture takes you a long way. We've seen so much bad furniture in really expensive apartments." —Peter Bonnén