A Black Stucco Home in Dallas Is Surrounded by Eye-Popping Greenery
A Texas interior designer expands her vision outdoors with a water-wise garden.
The first thing that strikes you about interior designer Lynn Rush's home is that it's black. The second is that its dark plaster walls are slowly being enveloped by swaths of brilliant green ivy. Surrounded by peach stucco mansions, this LEED Platinum residence on the outskirts of Dallas is wholly different, but without sticking out like the proverbial sore thumb. Instead, its low profile seems to dissolve into a backdrop of native plantings.

Newsletter
Join the Daily Dose Mailing List
Get carefully curated content filled with inspiring homes from around the world, innovative new products, and the best in modern design
For landscape architect David Hocker, creating that garden posed a challenge. His client wanted a lush, colorful yard full of texture, but her quest to achieve LEED's highest residential rating meant he had to significantly limit the amount of water used. Hocker's solution was to plant masses of native and drought-tolerant grasses, trees, and flowering shrubs, with a cistern to collect rainwater for re-use.
Inland sea oats provide the framework for the landscape, starting at the property's outer woodland edge and transitioning into hardy buffalo grass. Punctuated by flowering perennials, red yucca for evergreen, and redbud and Mexican plum trees for color, multiple layers and big sweeps of grasses create a pastoral scene in the front garden. "It gives this idea of a prairie even though it's in a suburban neighborhood," says Hocker.
"The house configuration was about making the landscape part of the interior experience, with views carefully terminating at all times in greenery." Yen Ong, Architect
The site's proximity to a greenbelt conservation area across the street prompted the home's architects, Yen Ong and Paul Merrill of 5G Studio, to "create an indoor condition that is very easily mistaken as the outdoors . . . a complete merging of exterior and interior climates," says Ong. The concept they envisioned was a black pavilion in a garden. "Into this solid black mass, we carved voids to allow for this relationship from indoors to outdoors to take place," Ong says. The "voids" are slices of white in the square black structure, giving the impression of a perfectly cut Gothic wedding cake.

These openings—the largest of which is 28 by 14 feet—let in streams of sunlight through oversize windows and allow the landscape to "paint" itself onto the white plaster walls. The atmosphere changes with the seasons. "There's one room that turns a beautiful blue-green, another amber, from all the trees," says Merrill.
There's enough natural light that Lynn never uses her recessed LED lighting during the day. The low demand for energy means the 4,600-square-foot home, which is powered by a rooftop photovoltaic solar array and a geothermal heat pump, could eventually be net-positive.
Lynn, who designed the interiors herself, spends much of her free time outdoors. Beyond the west patio, a zoysia grass lawn offers a place to stroll, and a lowered fire pit area creates an intimate spot for gathering. Three cattle troughs enjoy new life as raised fruit and vegetable beds, home to the seedlings that get their start each spring and fall in the neighboring greenhouse.
Everything is watered by drip irrigation or by water-efficient sprayers, using a rainwater-harvesting system that collects 90 percent of the roof-area rainwater into a 6,000-gallon underground tank. "The goal is that, after a three-year establishment period, she can shut off the irrigation and just use it for supplementary watering," says Hocker.
"We challenged the idea that Texas is so hot you cannot have anything other than light-colored stucco." Yen Ong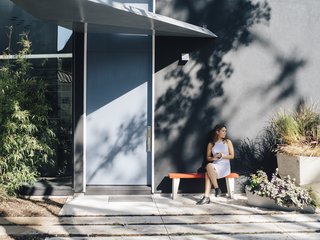 While Lynn didn't initially plan on a "green" home, she is pleased to have been led down the path of sustainability. "I wanted something that not everyone else has," she says. "I never like to do what anyone else is doing, I like to step out and do something different."