7 Efficient Prefabs That Prove the Power of Modular Design
Resolution:4 Architecture creates astounding prefabricated homes that are tailored to their sites and the unique needs of their owners.
Founded in 1990 by Joseph Tanney and Robert Luntz, Manhattan–based firm Resolution: 4 Architecture (RES4) works on a broad range of architectural projects, but is probably best known for its Modern Modular design system, which leverages existing prefabrication technology to create homes that meet the specific needs of its owners. In 2003, RES4 won an an international competition for modern prefabricated homes. It's winning entry, the Dwell Home, was considered the "holy grail" for modern prefab enthusiasts by the Wall Street Journal, and the Washington Post called it the "highest profile modern prefabricated home in America." The firm, which has won numerous industry awards, has designed more than 120 prefab residences from Maine to Hawaii, using modular, panelized, and hybrid methods.

We take a look at seven remarkable prefab homes by this prolific and respected firm.

The inspiration for this prefabricated, modular family home on Fishers Island, New York, were the views that Tanney and Luntz saw from a 12-foot stepladder, which was balancing on the bed of a pickup truck when they first visited the site.
Newsletter
Join the Prefab Homes Mailing List
Get carefully curated content filled with inspiring homes from around the world, innovative new products, and the best in modern design
Debbi Gibbs' prefab home near Lake Iosco in New Jersey has a very permeable structure that allows the interiors to flow outdoors. The house has an open main living area, and a kitchen in the middle with low-level appliances and drawers down below. "I had a very clear idea of what I wanted design-wise, but Joe and Robert have such great expertise in terms of both the restrictions and possibilities of modular units. I don't think your average architect could waltz in and design a prefab house like they do," says Gibbs.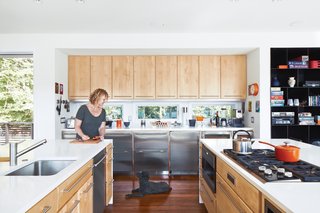 Tanya Wexler and Amy Zimmerman wanted their Long Island home to be durable enough to endure the wear and tear of young children trailing beach sand and dirt from the backyard in their wake. They were drawn to RES4's system of "mass customization," in which prefabricated modules are inexpensively produced in a factory, trucked to a site, and configured to meet a client's lifestyle and budget.
Comprised of six prefab box modules, this 2,650-square-foot weekend getaway just outside the town of Norfolk, Connecticut, is fitted with floor-to-ceiling aluminum windows that flood the interiors with sunlight and present sweeping views of the countryside.
This five-module, 1,650-square-foot prefab home in Vermont's Green Mountain National Forest is clad in a maintenance-free, corrugated Cor-Ten Kynar painted metal panel system to withstand the harsh Vermont winters. Its L-shaped form creates a small, outdoor terrace.
Designed as a weekend beach retreat for a Brooklyn family, this prefab beach house has a sheltered outdoor space below the house for parking, lounging, and woodworking, and full-height sliding glass doors that open to a large bayside deck that overlooks the Great Peconic Bay.
Located in a small clearing on the edge of a town in the Catskill Mountains, this rectilinear, 2,200-square-foot prefab house has a large Ledgestone wall, a two-by-two cedar slat wall that provides privacy from the paths leading to the hiking trails, and an ipe deck that wraps around the main living areas.