7 Affordable Prefab Homes and Other Alternative, Inexpensive Home Options
Nowadays, innovators in the world of prefab and kit home design have continued to push the boundaries on what they can do—their ideas offering alternative ways of living in terms of efficiency, sustainability, and in some cases, affordability.
With intelligent use of materials and design, there are new affordable alternatives to the cost-intensive and complicated construction of conventional houses. Take a look at the projects below that offer clever solutions for affordable living.
Happy Cheap House Near Stockholm
Happy Cheap house by Tommy Carlsson is a prototype for low-cost prefab homes that curiously resembles a cube with some of its corners cut off. Its angular surfaces are clad in corrugated-iron.
Cost: $223,250
Newsletter
Join the Daily Dose Mailing List
Get carefully curated content filled with inspiring homes from around the world, innovative new products, and the best in modern design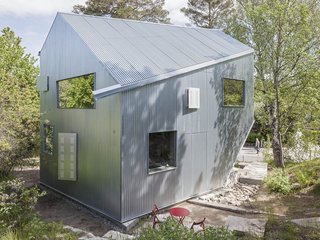 A Prefabricated Wooden Modular Passivhaus

Spanish firm Alventosa Morell Arquitectes designed Casa GG with three directives from their clients to consider: budget, deadlines, and an energy-efficient construction. They ended up creating a prefabricated wooden modular structure that could be delivered to the site and would adapt to the land. The result includes six timber modules that fit in seamlessly with the site, framing the resident trees. The inexpensive modular house was built over a period of just four months and resulted in an energy-efficient Passivhaus, a type of building that can be heated using minimal energy.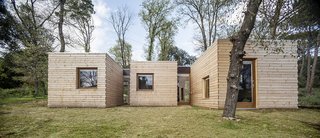 In order to build an affordable residence for a family of three, Sigurd Larsen employed prefabricated materials in interesting ways, while working with a simple spatial composition in order to get the most out of the space. Titled Sorte Hus, it also became a prototype for low-cost housing in the Danish capital. It features a single-story rectangular plan with a black-painted timber exterior, a glazed facade, and a gently sloping gable roof.
Cost: $182 per square foot
Family's budget: $144,769

This factory-building housing scheme by Rogers Stirk Harbour + Partners provided accommodations for 36 young homeless people in south London. Each of the 280-square-foot units have a combined living room and kitchen with a separate en suite bedroom. The units were constructed using a volumetric timber system in a factory where they were assembled and finished by hand. Each unit was then delivered to the site on the back of a truck.
Single unit cost: ~$50,000
Casa Invisible by Delugan Meissl is a low-cost, modular portable house that's clad in mirrors. Two prototypes produced by the studio are manufactured using a prefabricated timber structure, which reduces costs and allows them to be built using a turn-key solution.
Cost: starting ~$120,760
A Dwelling That Can Be Assembled in Three Hours
Vietnamese studio Vo Trong Nghia Architects designed this prototype as part of their "S house" series, a dwelling for low-income communities who live in harsh tropical climates. The third case-study design combines modular components that are supplemented with DIY finishes.
The S House 2 cost up to $4,000 per unit, so expect a similar price for this the S House 3.
Mexico-based architecture office S-AR created Casa Caja, a low-cost concrete block house that's designed to be built by its owners, with support from a non-profit social housing project. "The subject of the non-profit organization is to make the benefits of architecture available for those that can't pay for it with money, but can work or construct their own houses or buildings," explained the architects.
Cost: ~ $11,600