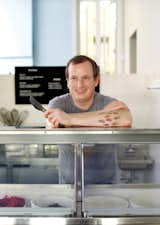 5 Modern Home Ice Cream Makers
For homemade ice cream! Whether you favor Kumquat-Poppy Seed or plain Vanilla, a home ice-cream maker lets you effortlessly craft a scoop that's made to order.
There's an expression of sheer glee that flashes across a person's face, regardless of age, when handed a scoop of ice cream. While growing older may swirl a ribbon of guilt into that experience, there's no denying that a good cone can still make our day.
Join Dwell+ to Continue
Subscribe to Dwell+ to get everything you already love about Dwell, plus exclusive home tours, video features, how-to guides, access to the Dwell archive, and more. You can cancel at any time.