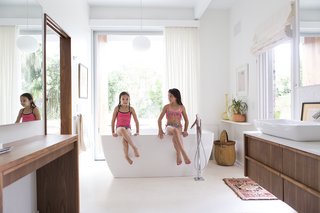 10 Ideas For Designing With a Modern Bathtub
We've come a long way since the clawfoot.
Nothing inspires relaxation quite like a dreamy bathtub setup. We look at 10 different ways designers and homeowners have given the tub the modern treatment.


1. Bring On the Drama
A black bathtub composed of recycled plastic combined with all-over black tile makes for a striking setting to suds up.
2. Tuck it Away
In this custom Harrington, Quebec, home, architect Eric Tremblay of Boom Town inserted a petite tub into the shower to maximize the footprint.
3. Borrow From Tradition
A custom cedar tub invokes the art and craft of classic Japanese soaking tubs.
4. Set it Apart
If your tub has a unique shape, what better way to highlight that than creating a backdrop of complementary materials? In this Greek home, concrete walls, wood decking, and white rocks set off the tub.
5. Strike a Balance
A Duravit bathtub balances out an abundance of teak in the built-in cabinetry and floor.
6. Blend it In
For this principal bathroom in an Australian vacation home, architect Annick Houle clad the tub to let it mesh with the tallowwood wall paneling.
7. Update Vintage
A 1950s tub found in a basement looks modern when paired with updated tile.
8. Surround it
A common tub layout is modernized with a grid-like tile application.
9. Highlight the Shape
Brightly colored flooring and paneling show off this shapely tub.
10. Try an Unexpected Material
Wood construction, as opposed to models coated in acrylic or porcelain, surprises with its contrast in the room.
Get the Dwell Newsletter
Be the first to see our latest home tours, design news, and more.