10 Beautiful Island-Style Shipping Container Homes
As more and more people choose alternative ways to live, homes fashioned from old shipping containers are mushrooming up all over the world.
Compact, sturdy, economical, and eco-friendly—what better way could there be to build a dream island getaway? Here are a few island-based examples of shipping container homes.
1. Coromandel Bach, New Zealand
2. Cove Park, Scotland
3. Bonaire, Caribbean
4. Casa Incubos - Costa Rica
5. The Box Office - Providence, Rhode Island
6. "Igloo," Iceland
7. Onagawa, Japan
8. The Beach Box - Long Island, New York
9. House R - The Hamptons, Long Island
10. Narongdej Nilapat, Thailand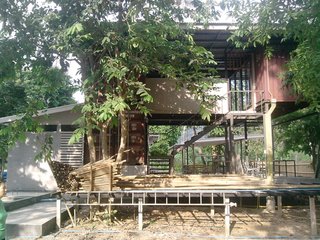 Get a Daily Dose of Design
Sign up for the Dwell Daily Newsletter and never miss our new features, photos, home tours, stories, and more.