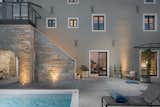 From Nataša Kraljević
Villa Covri is located in Croatia, near the wonderful town of Novigrad. The villa got its name after the Istrian village Kovri where she is located, at only 4 km from the nearest beach.
The villa was built in the 16th century and was completely restored in 2017 with furnishings of the highest quality and environmentaly friendly paint. The old beams that have for centuries framed this beautiful villa have also been restored while the old stone has been put to new use. Marble of the highest quality from Istrian quarrys was used to decorate the house. The interior of this beauty consists of three floors which successfully combine traditional Istrian with modern industrial style which makes this place especially inviting. The Golden Globe nominated movie "Život sa stricem" was shot here in 1987, before the renovation. The open concept living and dining area together with a fully equipped kitchen and toilet are located on the ground floor. Three spacious bedrooms, all with en-suite bathroom are located on the first floor where from one of the bedrooms you have a terrace from which you can directly access the garden. The other two comfortable bedrooms, also with en-suite bathroom each, are located on the second floor. The villa is surrounded by a beautiful mediterranean garden with lavender, rosemary and olive trees where the refreshing private pool awaits and invites you to unwind in this beautiful oasis. To round up your experience in this extraordinary villa, the owners can offer various water sports at a discount. Yachts and other boats can also be arranged. For those who would like to truly relax - a top yoga teacher can come to the villa and offer a private or group class as well as a massage. Villa Covri has received 3 awards in 2018/19: one is the prestigious Grandprix 2018 award for the most beautiful rental house in Croatia - according to the audience's votes. The other award is for BEST PROJECT 2018 Professional Network for Architects and Designers Archilovers has selected the Villa Covri project among the best projects in 2018 all over the world.
The last award is 22 Tourism flower - quality for Croatia - best unique Spot Holiday Home.