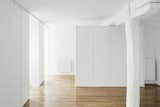 From María José Orihuela
Project Strategy & Sustainability
The project addresses the current dichotomy of many urban areas on whether to renovate a building or build it anew. In the limits of the historic heart of Durango (Spain), on the border of Mañaria stream, there was a mid-XIX century building on the verge of collapse. Instead of following the economic logic and demolishing it, a more sensible and sustainable approach led the project, reducing construction waste and giving a new life to the existing building, including a full restoration of its timber structure. This strategy also facilitated the operation financially, allowing for construction phases: first, the stairwell and ground-floor retail space were refurbished and on a second phase the four floors of apartments above.
Structural Design Challenges
One of the main design challenges was to insert a new stairwell and lift as structurally independent as possible, since adding new loads on a historic timber building is generally not the best idea. The new core is a lightweight structure made of steel and glass, with wooden details where it is going to be touched. It relies only on itself, with flexible connections to the existing floor plates and its independent foundation.
Design & Details
The main facade and most public side of the building, appeared as ruled by order and symmetry. Its rear facade, on the other hand, had an organic and messy composition of openings, revealing a prior state when it had a second skin of enclosed balconies. Those could not be preserved or rebuilt, due to council regulations. What seems logical from the outside, poses an interesting design challenge in the building's interior: to harmonize those antagonistic sides. An internal second skin made of painted timber was designed for this purpose, giving a consistent rhythm to an otherwise chaotic back facade.
Another challenge was the requirement for radical flexibility for the first floor, which is to be used as a showroom and meeting area when the building is finished and as an apartment later on. Thus, each space has inherent duplicity to it: waiting area-living room, meeting room-dining, workshop area-main bedroom and so on. For this reason, the kitchen can be open or hidden away.
In general, construction details follow a desire to show and differentiate what was there and has a historic value from what is new. Where windows have artisanal stone lintels and frames, these were carefully cleaned and are now visible. The structural intricacy of timber beams that compose each floor is revealed too, looking to tell the history of the building to generations to come.