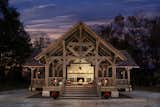 From OakBridge Timber Framing
The Wirrig outdoor living space is an absolute masterpiece. Large timbers, a massive hearth, and wide open areas are perfect for parties, weddings, or any outdoor event that needs a special venue. The idea for it came to the property owners one starry night - literally:
One night, the property owner and some friends jumped in his newly purchased old 1966 Ford pickup truck, and drove around the Ohio property, which has fields and woods. The night was filled with stars, and friends started talking about how cool it would be to get married out there, if there was some sort of pavilion… and so, the idea of building one began. While the friends got married before the pavilion came to fruition, it's become the homeowner's go-to spot for gatherings large and small. It was hand-crafted by the all-Amish owned and operated OakBridge Timber Framing – the timber frame structure is one-of-a-kind, all mortise and tenon, and blends seamlessly with the natural surroundings.
For more information, visit: oakbridgetimberframing.com
Photos by Kris Miller for OakBridge Timber Framing