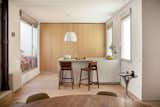 The Oak Residence by Quiet Studios
From Quiet Studios
In the initial design phases on the Oak Residence project Quiet Studios observed the client's routines and customs to create a space tailored to her needs. Where once small rooms stood a new layout allows natural light to flood through the property. Iron pillars segment the space, unobtrusively dividing the large common room, open kitchen, dining room and living room overlooking the terrace.
Oak is the primary material of the house, the client's favourite hardwood. Covering the walls and floors of the living spaces, kitchen and bedrooms, the oak gives a sleek finish to integrated storage solutions, adding a minimalist facade to shelves and closets. The uncovered walls are painted in a powder grey, broadening the space and adding a fresh contrast to the rich wood tones of the oak and teak furniture.
The Super Beam sofa, designed by Patricia Urquiola adds comfort to the living room while Ralph Loren cushions custom made in Italian fabrics give a touch of colour. A Maglia piece from Cassina carpets the main space, crafted out of Colombian fibres repurposed from coffee bags and agricultural yarn. Silver lamps from the 30s and mid-twentieth-century Scandinavian teak lights with rope detail complement the project's minimalist pairing of materials and textures.
Bringing bespoke design elements together with high-quality pieces the space has a luxurious and personalised feel. Gold toned taps hover over a small washbasin carved from Northern Spanish river stone on the custom-designed wooden dressing table, and natural light shines onto the vanity for the client completing her morning rituals.
A gold 18th century French mirror stands in the dressing room alongside a solid oak Berger stool designed by Charlotte Perriand in mid 20th century and reproduced in 2011 by La Cassina. A matt gold Mayfair lamp designed by Diego Fortunato for Vibia presents a modern lighting solution.
The large terrace has teak floors and white walls to attract natural light and wide vegetation, as one of the client's preferences. Antique metal planters and a fresh white French-style fountain houses succulent plants and 300 year-old Greek amphoras once used to store olive oil house a lemon and maple tree, bringing vibrant leafy textures to the outdoor space.