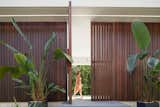 The Minimalist House in Miami
From HouseDwell
A MINIMALIST HOUSE IN THE MIDST OF A HISTORIC MIAMI ENCLAVE
A long, narrow corner lot in El Portal, Miami, remained empty for decades. That is, until the husband and wife design team of Fabio Santoriello, interior design technologist from Salerno, Italy, and Ezgi Fitos, an award-winning architect from Turkey, decided to build their dream home under their long-standing integrated design firm, Designology, LLC.
Built with a subtractive design ethos in mind, the residence is distinctly minimalist. Favoring neutral colors and clean lines, expanses of white walls are complemented by warm wood finishes. There are also walls created with the express purpose of eventually becoming vertical gardens, and the addition of interior courtyard greenery brings the tropics inside. The stunning tropical landscape is a key part of the aesthetic, encouraged to flourish over time. This interplay between the pared down and lush makes the residence eminently appealing.
The design draws inspiration from ancient Greek dwellings, organized around a central interior courtyard and keeping the exterior facade windowless. This arrangement maximizes space and privacy and also ensures plentiful natural light. The entrance opens directly into the courtyard and pool, a central space to which all rooms have access. Each room is equipped with courtyard-facing sliding glass doors, allowing for direct interactions with the rest of the house while preserving the option of privacy.
Materials were imported from Italy or else made on-site with micro cement for a bespoke touch. Bathroom fixtures and fittings are Rexadesign; kitchen and dining table are Arredo3; frameless doors and floor to ceiling space dividers are Movi; master bed is Twils; nightstand and dressers are Giellesse; chairs are from Desalto; the smart home system, invisible home theater, and integrated linear LED lighting are designed by Featured Media, LLC; artworks are on loan from Stacey Mancuso Design, Inc.
Further details, statements from the designers, and photography are available on request.
About DESIGNOLOGY, LLC.
Design-build firm Designology LLC focuses on creating cost-effective, functional contemporary design. Emphasizing a site-specific approach, the firm believes the best design comes from creatively solving existing conditions and problems. Providing both architectural and interior design, Designology LLC is dedicated to builds from conception to completion, providing years of experience and their European education every step of the way.