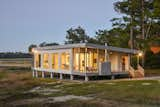 Credits
Interior Design
Shannon Horning Woodworks
From Laurie Lauletta-Boshart
A Modern, Prefab Home on South Carolina's Coastal Barrier Island
Survives Hurricane Florence Three Days After a Family of Five Moves In

Husband and wife physicians, Tim and Jenn Beatty, knew they wanted a modern home that could withstand the elements when they began building along a South Carolina coastal barrier island. But they didn't expect their modern, prefabricated home to be put to the test so soon. Three days after moving in, Hurricane Florence hit the Charleston coastline, wreaking havoc on many of the local coastal communities. The couple — along with their three young children — chose to shelter in place. Their home stood up to the torrential rain and storm-force winds, coming through completely unscathed.
Minimalist Living
After returning from a tour of duty in Iraq as an active duty Naval officer (Jenn completed her education through the Armed Forces Health Professional Scholarship Program), Jenn and husband Tim made the decision to downsize their lives. "When you come back from war, your priorities change tremendously," she says. The couple sold everything but a small, 800-square-foot villa on Seabrook and began looking for river-front property to purchase. They found an 8-1/2 acre parcel on Johns Island that combined river-front and marsh land. Instead of opting for the typical big, southern plantation home, they wanted steel, but couldn't find a local architect who would work with them. "We really wanted a steel and glass house in a hurricane area and that's unheard of," says Jenn. "We are also in an earthquake zone, but our house was built to withstand both and its already passed the first test."
While searching online, Tim found EcoSteel, a California-based supplier of modern, prefabricated and preinsulated steel building materials that are eco-friendly, durable and economical. The Beatty's worked with EcoSteel's design team and engineers via webex to get the design right. They also employed architect Carter Woollen of Woollen Studio in Seattle, Wash. to flesh out the architectural details. "This was a very client-driven project," says Woollen. "Tim and Jenn had a pretty good sense of how they wanted things to be organized and what the look of the project should be." The 1900-square-foot, 4-bedroom, 3-1/2 bath main house is almost 70 percent impact windows and is built on concrete pilings to elevate it above the water. A plant-based natural ionization system automatically sprays under the house three times a day to help eliminate no-see-ums. An outdoor shower on the north side of the property is enclosed with a semi-private perforated screen, offering 180-degree views of the marsh. White high-gloss, floor-to-ceiling cabinetry that reflects the afternoon light is featured in the kitchen, along with a 17-foot island that provides convenient seating. Built-in maple wood furniture is included in each of the bedrooms. All cabinetry was custom designed and installed by Shannon Horning Woodworks in Charleston. The 12-foot-high ceilings and exposed steel beams support the wind beam glass loads without interruption An oversized 15-foot Euro-wall door welcomes the family and guests at the home's entrance. "Our main idea was to make sure that what we created was something that made you feel like you were outside, when you were inside," says Jenn. "We designed it so there never was a point when you were standing in the house that you weren't looking at the surroundings around you." The site also includes a 680-square-foot guest house and a 900-square-foot shop/garage.

Beatty Home Highlights:
• 1,900-square-feet, 4-bedroom, 3-1/2 baths (Main home)
• 680-square-feet, 1-bedroom, 1 full bath, kitchenette (Guest home)
• 900-square-feet (shop/garage)
• Material choices: EcoSteel prefabricated and preinsulated steel wall and roof panels, Fleetwood floor to ceiling glass windows, concrete floors, white, high-gloss cabinetry, white, high-gloss tile, built-in maple furniture, 15-foot Euro-wall door
• Owners – Tim Beatty (emergency physician) and Jenn Beatty (breast physician)
• Completed in Sept. 2018
• Built in approx. 18 months for $1.6 million